The Gazza Curse, Croc what Croc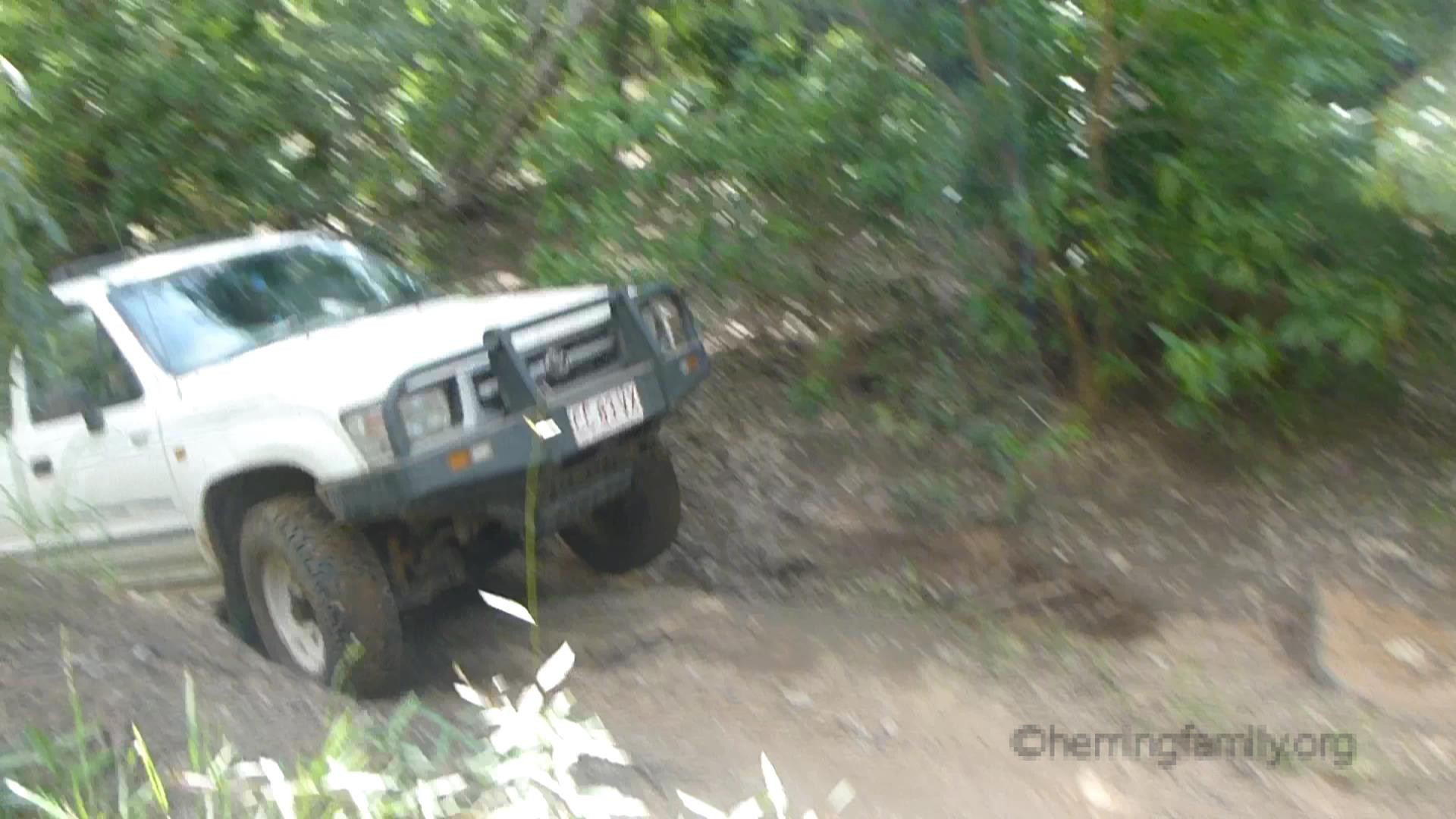 You know when the lad, Gazza is 5000 kilometres away I don't really expect the curse to strike, but there are sometimes it just does and of course with this curse strikes when you least expect it.
We decided after all the hard work of prepping for Christmas, enjoying Christmas and enduring the Christmas recovery period laying languid in shallow lukewarm water of a plastic backyard swimming pool, in a vain attempt to cool from thirty-eight degree temperatures, that it's time to fish.
Katheryn NT is amid the finest Barramundi fishing rivers in Australia, almost without exception. In the run off, the time after the "Wet",  is prime Barramundi time. The "Wet" is technically now. We decided to get a fish in a little early, with the Wet hardly started and the rivers on the rise, what better time to go fishing in a Croc infested rivers, what possibly could go wrong I heard you say.
The fishing party comprised Harley (daughter), Mrs Harley (her partner) my missus and myself. Enthusiastically, we packed the Hilux dual cab with Mrs Harley's flash new rod and reel, our own rods and tackle and the essential beers required to fish in this kind of heat. Destination is "Galloping Jacks" a well-known Katheryn picnic and fishing spot.
Galloping Jacks is about 20 kilometres out of town and from the seal you turn on to a shingle track, above the river is a car-park, but there is a track down to the river, which is a 4WD track with a tricky descent and ascent. We went past the car park and headed down to the river side.
The Katheryn River is roaring through, and the normal track to the preferred fishing hole is flooded, bugger. Never mind, we will park at the bottom and fish along the banks here.
"Watch out for the Crocs", a timely warning from darling daughter as I headed the opposite direction to the girls who were eyeing a fishing spot close to the Esky and the Ute.
I walked up the river rod in hand, studying the banks, no sign of Crocs, good. Fast flowing, the river is muddy with lots of eddies. These are great places for Barramundi, and Crocs, so I believe. Just for a second, I thought I saw a couple of Crocs sun baking on the river side. I stopped. Oh silly me, it's logs and continued on. I got closer and I couldn't make out the logs any more. Ha ha must be seeing things.
I found a spot and started to cast. Fabulous, an excellent cast across the river to the structure on the other side, the line carried down the river and by moving closer to the bank I could retrieve up the side of the bank through the strike zone. Excellent, lost in my own world I was casting and slowly retrieving up the side, isn't life wonderful?
"Are those bubbles dad?" Mrs Harley came up behind me while I am happily fishing.
"Where?" Over there, she pointed to spot about 3 metres to my left,  up the river where I thought I had seen the Crocs or logs or whatever.
"What does that mean"
"Could be a Croc just below the surface"
"Shit really, I thought I saw something when I walked up here"
"Oh look there is a Croc slide" Mrs Harley was pointing to the exact spot I had imagined the Croc early, a perfect wedge in the muddy sand leading into the river.
"Fuck, time to leave"
We headed back to the ute and decided to head home, as fishing wasn't going to be pleasant.
Wanting to film the ascent of the hill for posterity Al and I walked up the track to watch the Hilux climb the hill, should be fun we thought.
Vroom, off they go and get half way up before the Hilux says no.
"Bugger"
Harley backs down the hill and boots it again, Hilux tears up the track, only to get a little further but still not making it.
"Double Bugger"
She backs down, takes a deep breath, put it into gear hits the accelerate and the engine roars with a strange whirring noise, but the vehicle remains stationary.
Lots of advice is shouted, none of it very useful, she takes the vehicle out of 4WD and goes to move it. Same result, a bit of an engine roar, the strange whirring and nothing. Five minutes of putting it in and out of gear, moving from two wheel drive to four wheel drive to low range, nothing. Engine runs and when in gear making a whirring noise and when not it sounds perfectly normal.
I am sorry but it's now
"Triple Bugger"
What to do, nothing for it but to ring a mate for help. The mate, was in the Pub, that's where most sensible people were at three in the afternoon on a 38 degree day. "I'll just neck this schooner and be right over", the sacrifices mates make.
While we are waiting, a German backpacker arrives in a Nissan Patrol, realising he couldn't get down the track because we were blocking it he comes down to offer his services. We kindly decline, he is carrying a rod and a backpack. As he can't get his vehicle down, and the track to his regular fishing spot is blocked, he decided to regale us with his fishing adventures, which includes catching a 70cm Barra here a couple of weeks ago.
Mrs Harley points out the spot where I had been fishing, and the Crocs had been sun baking and suggests he fish there as it is a really really good spot.
An hour or so later a mean looking, flat deck crew cab 70 series land cruiser turns up with two, blokes in. Franko and Johnno, they hook the broken Hilux up on a Snatch Strap and with a lot of grunting, roaring and clouds of clutch smoke the Hilux is up the hill and back on seal being towed to somewhere safe we can leave it.
That safe place was at Franco's shed, a full on bar, including pool table, sports playing on a wall mounted TV and all the paraphernalia a fishing, trekking, shooting sort of a bloke would have. A couple of beers and we borrowed Franco's Hilux loaded our gear in and headed home.