Long lunch at Lagoon Cafe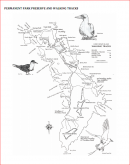 We pottered around this morning. We decided to leave our bikes behind and walk around taking photographs. To tell the truth our back sides were so painful riding was a little bit out of the question. As we walked out, the sky got darker and we could see rain out to sea across the lagoon.
We walked around the Stevens Reserve and then headed to the Lagoon Café for lunch. It was a planned "long lunch". We drank wine and eat, and eventually the rain came down.
It poured. We moved inside and drank coffee until around 4pm. It was now time to go home for a change of clothes and a shower before our evening meal. The weather cleared by the time we had finished our clean-up, so we returned to scene of our lunch at the Lagoon Café how which was now called Zubar for TAPAS and wine. We fell out of there about 9.30 and wandered back home largely along the beach.
So ended another day in paradise.