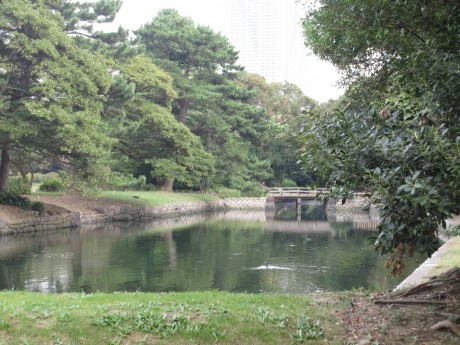 The train roared in, appearing to go right past the platform, and then stopped almost instantly. Hundreds of faces pushed flat against the windows, bursting out as the doors opened. Orderly lines of commuters on the platform turned into a stampeding mob mauling its way to the carriage, filling every gap created by those tumbling off the train. My efforts to stay calm and walk on in a dignified way spoilt by a powerful push in my back; propelled through the doors. I staggered ungainly into a wall of unappreciative Japanese business people. I scrutinized the heaving mass of crushing travelers to my rear to see what was shoving me like the front row of a scrum. There behind me, supported by two prop forwards, stood the hoodlum who had assaulted me. The trio had heads hung in shame of the hooligan act they'd committed. I threw a brave menacing, eye piercing stare at this unruly scrum of three. Instant humiliation flooded through me as I realized they were mid seventies gray-haired skinny old Japanese women who between them didn't weigh as much as my beer gut.
When I turned to face them off, they all burst out giggling like a bunch of teenage schoolgirls, nodding their heads furiously and apologizing. Well, I assume apologizing as they were speaking in Japanese, yet another tongue I haven't mastered. They could have smiled and said, move your fat arse, old man us girls have a sake party to get to. This was my last underground journey on my current visit to Tokyo, and my fury melted to a smile; I chuckled all the way back to my hotel.
The trick I had learnt on the Beijing underground is to learn to group breathe. As everybody else breathes in, you have the space to breathe out. Invaluable as a technique in Beijing, even though the Tokyo reputation is for packed trains, I had not seen the necessity for this technique in Tokyo. Often crowded, they never got as crowded as I had experienced in Beijing.
Visiting Tokyo on business, I had carefully picked out a hotel that would be close to the location I was to do business. Unfortunately, my travel agent had a better plan, and gave me a lesson in Tokyo public transport by accommodating me across the other side of the city. My colleague, John and I had decided we would tackle the underground railway for our transport. He had firsthand experienced of how expenses taxi's could be and he reasoned he knew how to work the London underground, how hard could this be.
We headed underground on our first morning to the client. A cinch, we reasoned. We only need to make two changes to get into the major station of Shinjuku. From there we need to switch to a train on the Keiō Line, take the express 30 minutes into the country, switch platforms and catch a train two stops back. An hour and half is plenty for that, surely?
Venturing down the underground on the previous day for a test run, we found that there are extremely long walkways with many entries and exits. We found we could avoid one of our train changes by walking a kilometer underground. Another outcome from the test walk was the realization that to walk in these tunnels was hot and sweaty. By the time we had soaked our shirts in perspiration and hopped on the train heading in the wrong direction, we had decided the walking to avoid train changes was probably not the smartest move.
On our first day of business, we found we were staying in a business district; workers were all coming towards us as we were leaving. We entered the subway to walk to our station to face stampeding towards us thousands of Japanese business people dressed in black suites and white shirts. The men must have all gone to the same off-the-shelf clothes shop. They are all dressed identically. Our battle became walking up-stream against this tide of black and white workers for about four hundred meters to find our station.
We arrived at our platform at exactly the time a train did. Next question was it the right one, going in the right direction. A few seconds of angst and we figured we could work that out on the train. People piled off, and we climbed on. We had only one stop to go and thankfully heading the correct way. When we pulled into the next station, we detrained and found a train waiting with doors open. We climbed on board, fretting again we had made the right choice until we realized we had made a perfect choice.
Our timing was faultless, and we ended up in Shinjuku without incident. We found the next leg no problem. Again as we walked on the platform the train we required was there. It happened a fourth time as we successfully arrived out at our client's location. This travel train travel in Tokyo was easy.
The black and white suited Japanese commuters all have flip top phones which they play games on constantly while they are travelling. Never looking around or up to see their fellow passengers on their train, they continue to play as they leave the train. I wondered if they play all the way to the office and continued to play in the office. Those who are not playing games on their flip top phones are clutching them in both hands as they slouch fast asleep on their seats all the way to work. I suspect these worn out guys are suffering from playing their phone games all night and are getting some shut-eye before the big game in the office during the day.
Our journey home was like the trip out; we got to our train okay and took a slow local train back to Shinjuku before heading out to our hotel. This is when our troubles started, and we realized it was not as easy as we thought to negotiate the rail system. The problem is not the sixteen railway systems, or the change between choices of five railway companies. The problem is Shinjuku Station.
This station is a multi dimensional monster that spans city blocks and goes down multiple levels. It confuses you by accommodating eight department stores, scaling nine stories above ground, containing numerous food courts and basement shopping malls. This rail hub has nearly four million passengers a day pass through it and is reputedly the busy station anywhere on our planet. You never know where you're dumped and so finding your way to correct platform is a nightmare. More than once we walked around the station inside for half an hour and ended up going outside and doing it again.
And don't talk to us about the outside, we never, I say never, came out of that station through the same doors. It was like an adventure game without a map. There are well over 200 exits to this building that appear and then disappear, while the bewildered commuters' trek through the people crushed corridors desperately searching for yesterday's egress to the outside world. We were always, that is always, lost as soon as we left the station. If we needed to go in a particular direction, you could be certain we would exit the building from a direction we didn't recognize. We would exit on a side of the building we'd never seen before, so we couldn't determine our exact location. We spent most of our travelling time either walking around the outside of Shinjuku looking for where to go, or walking around inside wondering how we could get out of the building. Once outside, then problem number one came back up again.
The underground railway worked well, but Shinjuku Station is a test of a traveler's intelligence and endurance. If I am going to return to Tokyo, then I will need an advanced degree in Shinjuku Station navigation. I wonder if there is a GPS system for the station. Perhaps that is what all those guys were doing reading their flip top phones?