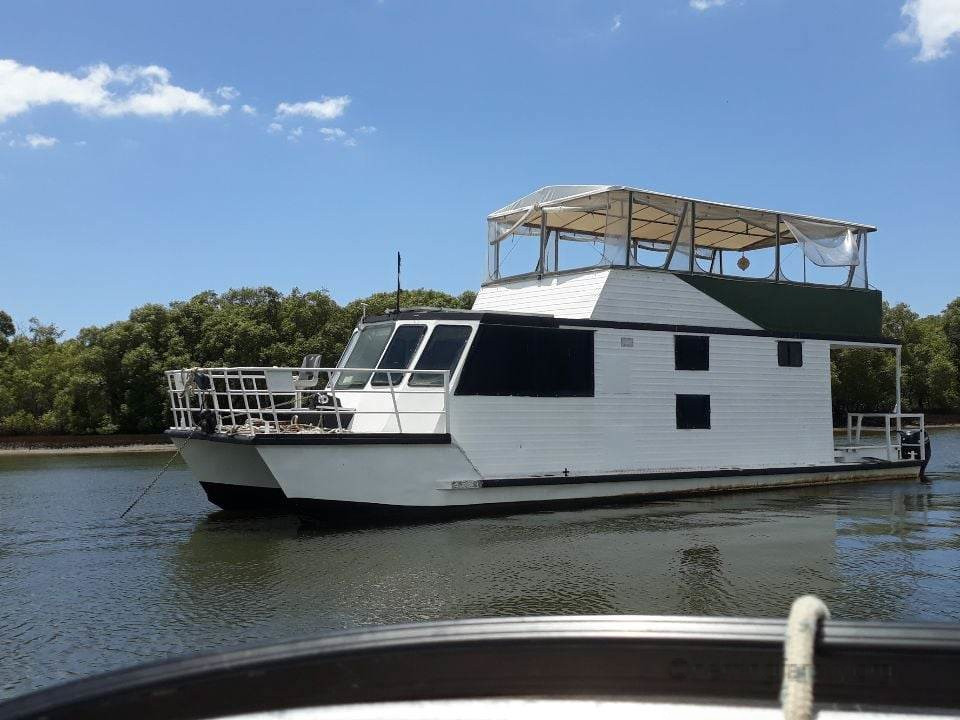 The phone call came late in the evening. I usually leave calls after eight at night. The phone played that stupid noise I had assigned the ring tone. Who the hell is this bloody phone bloody scam? I thought I'll just turn the bloody thing off. I can't find the phone, must be under my side table. I twisted to my right and then to my left, phone was on neither my side table nor the divider between our recliners. Must be in the kitchen, nope. The phone was still ringing insistently. Angry, I returned to my recliner and there, sitting smugly where my butt resides, my phone sat. I snatched it and answered without looking really looking to see who it is. What are they selling? Whatever it is, I'll give them a hell of a spray?
"What." This is my normal polite answer to an unexpected phone call.
A familiar yet unrecognized male voice said. "Do you want to come with me to look at a houseboat?"
"Pardon?" This is a most unusual request. Slowly, I recognized the voice. We had talked about renting a houseboat on a significant river, say the Murray, I would love to do that, but not right now.
However, look at a houseboat with the possibility of buying, not really been on my radar.
The call was a mate of mine, Bob. Bob likes to point out that is the only mate I have that his name is same when you spell it backward. I raise my eyebrows, really. Anyway, I get a call from Bob on 17 November. He wondered if I want to go look at a houseboat with him.
"A houseboat, I say. What would we want to look at a houseboat for?"
"A project, he says, it would make a great project."
"I don't need a project." I say. " I have plenty of projects, and tomorrow is my wife's birthday. I shouldn't go looking at house boats."
"It won't be long. Just buzz up the Caboolture river, look at the houseboat and then come back. Only a couple of hours."
"Where are you going to sail this houseboat?" I ask?
"I Don't know, it just seems like a good idea?"
"Oh, there is one thing." he say's, "it sunk, but now recovered, but the motors got a little wet."
" Oh, I say, doesn't that mean new motors?"
"No, she will be right." Bob, that's Bob spelled the right round, otherwise it would be boB. Is an ex-diesel mechanic, can fix anything, mainly worked on huge mining equipment in the desert. I pointed out that he wouldn't have much experience with outboard motors in the desert. He said she will be right. Let's look at the houseboats.
I asked Al, after all, it is her birthday. She says, go on, sounds exciting, so that was it. 0930 on Friday 18th Nov, boB turns up (oops spelled it backwards again tricky this name.), he says to me; I have three rods and bait in the boat. We might need to have a wee fish.
"Oh, what about looking at the houseboat?"
"Well," he said," the bloke won't be there. He has been called into work. So we can't look at the boat, but we can circle around it."
"Oh, I think, it's Al's birthday. I should take her to lunch, but she said, go look at the houseboat. So off we go.
We get the boat in the water, and Bob goes to park the car. At the end of the jetty sits a little old lady on a small canvas seat. She has four rods in the water; I ask how it's going. She indicates it's been okay. She has a flat head and a bream.
"Excellent," I say "dinner anyway."
"Yep, she responds and packs up, as Bob returns from parking the car. He fossicks about in the boat and decides he has left the bait behind.
Really´ I say, 'so no boat viewing and no fishing.
He rummages some more and says, he has a few soft plastics. Suppose that will have to do. The little old lady comes by, and Bob asks if she has any bait we can buy. She says sure pulls out a pile of chicken and pilchards.
"There we go, not cost good luck."
Great, at least we can fish, we think. We pile in the boat and head up the river; I have left my long-range classes behind so I can only see a couple of clear yards. Bob can't make the sounder/fish finder work, only a very dull picture and the water depth. We are skimming along in about a meter of water. I have been here before; I think. Hope the tides coming in.
"Bob, what tide do we have?"
"It's going out."
"Oh, we have very little water under us."
"She'll be right. We are going to have a quick buzz around this houseboat and then we will find a channel to fish."
"Gulp, wish I could be that confident."
The houseboat was easy to find, quite big, forty-one foot, two 90 horse Suzuki motors at the back. Looks tidy from the outside, from a distance, that is. As we got closer, we realized the water beneath us was getting a wee bit shallow, down to half a meter, then magic. We were in two and a half meters by the target boat. We circled it a couple of times and decided it was time for a fish. We could look at it properly tomorrow.
We found a great spot and fed the fish for about an hour, nothing other than some enormous bites on my line. But I think they were crabs. It's quite common here to get crabs on your line, much less common to actually catch them.
We let the boat off the anchor intending to drift a bit; the wind was up a little; the tide was still on the way out. We drifted ten minutes and detected we had almost no water below us. Time to motor back to the deep water and head home. Sand swirled up as the boat made a lot of noise about going nowhere. Bugger. It was time to get out and walk.
I know, I know, it's not very often I am invited out on the Caboolture for a walk? Both of us must have known something was amiss as we had swimming togs on. overboard we went, the boat popped up and we push it until we were in waste deep water. Scrabbled aboard and off we motored back home. No fish and no houseboat.