Last night was really cold we went to bed in long johns and T-shirts. I set the alarm for 5.30am however when it went off it was too cold to get up and still dark and very quiet. It was one of the quietest nights I have experienced. There was no insect or wildlife noise and certainly no humans.
The first sound we heard was the noise to the radio from our neighbours a hundred yards away and that would have been just after six. It was enough to drag us out of bed and start the day. The early morning song birds were beautiful this morning it was a very special start to the day. The sky today is pure blue, all the overcast from yesterday is completely gone. We packed up and left by 9am and headed the 12 Kilometres up the road to Windorah, a very tiny town with only a couple of hundred people, a pub, a shop and a service station.
In the outback you fill up whenever you find fuel, that's the custom, that's sensible, between Windorah and Birdsville is 368 kilometres of barren red sand and no petrol stops.
Windorah Servo has three old pumps, unlike those back at Quilpie they were not locked. Run by a rugged-looking old man who the dust and wind appeared to have sculpted into a character of the outback. His skin almost weathered black was the texture of Kangaroo hide boots. His voice was slow with a skeptical tone as I approached him after filling the car.
Account books and invoices with oil stained fingerprints lay on the grease covered counter top, the only concession to the modern world was an old oil blacked calculator.
"Ow Much mate" he asked.
I looked back a bit puzzled, doesn't he know, I thought to myself. My dumbstruck look must have prompted him to further explain.
"Me eyes are a bit old to see the pump mate ow much was it?"
I stepped back to the pump to look "Fifty-six Eighty Two" I told him.
"Okay Fifty-Eight Sixty-Two" He responded, "What you got"
I had to think a second, I was sure they were not the numbers I had given him. I stepped back to the pump and then repeated the original numbers to him.
"Oh" he said with a weak smile "Sorry it's me eyes. Out of a hundred you said, that's a big tip"
We both laughed and I collected the change he'd dumped on the bench. Okay so that was Windorah.
As we left Windorah the emptiness opened up in front of us, this is something different all together. The land is flat, very very flat with nothing on it. Horizons never arrive with low scrub that never appears, and a long stretch of seal running out in front of us. There is nothing on this land, no houses, no live stock, no power poles or pylons, no mobile phone towers, just nothing at all, it is awesome and scary, this is where we realised we are out of contact with anyone, if something goes wrong we are just going to have to wait for help.
There is so little here that we stopped at every point of interest such a, a pile of mud with poles poking out that some one had placed a placard at. The sign related the story of the JC pub and the old town of Canterbury.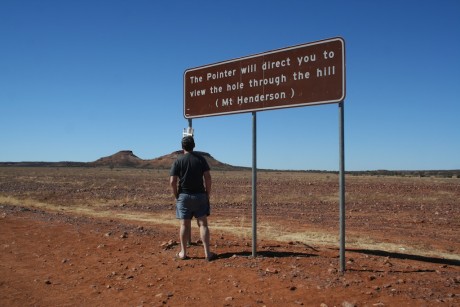 We also stopped to see a hole in a hill about 20 Kilometres from JC Pub, at the stop was a metal arrow connected to a post pointing to a hill with a hole in it near the ridge line. I suppose if you were to live this far out it doesn't take much to amuse yourself and we were quickly fitting into that mould.
A few more kilometres on there was something far more interesting but there was no sign post telling me what it was or who owned it. Set just off the side of the road stood a group of sand-yellow buildings like aircraft hangers. This complex looked like it could have belonged in outer-space, or at the antarctic, or some place equally remote, the place had an eeriness about it. A collection of tall poles and rigs that looked like aerials added to the intrigue, who knows what it was, I could only surmise.
Not long past this mysterious place is a rest area with toilets and a caravan waste dumping spot and importantly the turn off to Birdsville. The road had turned to gravel now and probably would be like that for the next three or four days.
About 40 kilometres down the Birdsville Developmental Road a grader was busy, we were some 140 kilometres in the middle of nowhere and there was nobody else around and here was a man keeping the road useable. About 5 kilometres up from where he was working was the trailer off a prime mover, the trailer had a satellite dish on it and a four wheel drive ute parked behind it. We figured this was the grader driver's home, he must have a very lonely life out here.
The road to Birdsville was much the same the whole way, patches of trees from time to time but thinly spread and bony looking affairs with very little leverage. There was a lookout part-way down the road, so we stopped for lunch on top of a hill. The biting wind was blowing constantly, everything required anchoring down while we ate, and once again the flies were constantly up our noses or in our ears.
We arrived in Birdsville at about 3.30 in the afternoon and very quickly found the Birdsville Pub and the Birdsville camp ground. (There isn't much more to Birdsville). The place was a little bigger than I had expected, don't get me wrong it is tiny but very definitely the hub of outback travel in the region.
After putting the tent up we wandered over to the pub arriving about 20 minutes before opening hours on a Sunday. We walked not noticing our early arrival, it didn't matter the pub was actually in full swing. We stayed and drank and had dinner there around 9pm, and that was an hour and a half after the public bar's official closing time for a Sunday, however it was still going busier than ever when we left.