Today was a down day, time to get familiar with our surrounds at Birdsville and do some washing, stock up on things we had run out of or were likely to run out of, as from here we are travelling down the Birdsville Track and the Oodnadatta track on our way to Ayer's Rock. After we had lunch we walked along the Diamantina Creek looking for whatever nature had for us. The wind was cold and, the sun was hot and the flies were a persistent nuisance.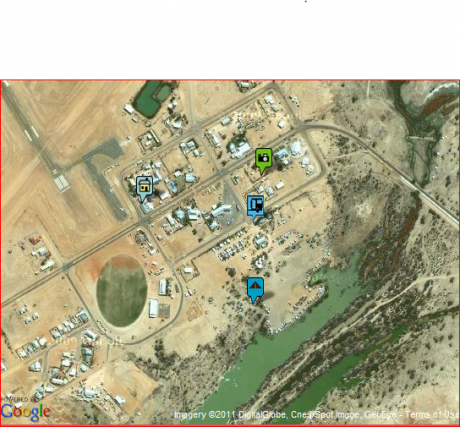 We headed back to the tent deciding it was time for a drink before cooking tea, and while sitting quietly we heard the rumble of motors that was not the usual diesel sound from the predominant four-wheel drives occupying the motor camp. When I later went up to the amenities block I saw a lot of cars all painted in rally colours. Markings on them indicated this was contestants in the, Kidney Kar Rally, 2007 Darwin to Dubbo via the 'Lost City' , and as the afternoon wore on more and more turned up. They had changed the camp grounds from a four-Wheel drive fun park to a motor rally head quarters. An interesting and different night in the camp grounds was ahead of us.
I cooked a big fish curry for dinner and the leftovers we put in the freezer, the new car fridge was working great. The parties didn't seem to go for too long into the night and after a few brief fireworks in the evening all was quiet.