Well last night was a bit of fun, we spent our time around a fire drinking and talking to a guy who was a cabinet-maker from Newcastle. He was a good old, born and bred basic lad from Newcastle, I reckoned he would have been in his late 40's, and off on an adventure north to Townsville to see a mate. He was taking the long way round. I think anything west of Maitland was a little more than he had dealt with before, but he did seem to have a good time.
The first stop was a small town called Quilpie, we pulled up here just before mid day, we'd had some rain just after Charleville but now it had cleared up, the air was very cold as we got out of the car. The landscape we are travelling is sparse, just trees and red earth for as far as the eye can see, with very few hills and long straight roads.
Closed the sign said at the Quilpie information centre , fortunately the lady who ran it turned up just as we were about to leave. I think we disappointed her when we asked her what the road conditions to Windorah were. She did however point out that there was good free camping at Cooper Creek about twelve Kilometres before Windorah.
I filled up with gas at Quilpie and headed further west, the road narrowed and the ground got flatter. The light was a weird evening light for 2pm in the after noon. The road was long, flat and boring; we stopped at one point to photograph a huge dump of half 40 gallon drums which sat on the side of the road. We assumed they were there as some remnants of road building.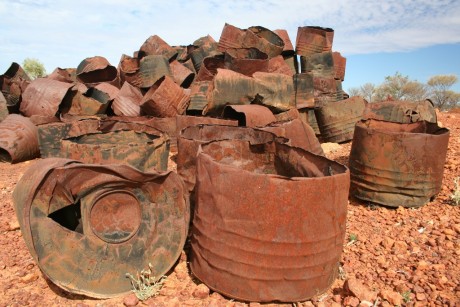 Just before we reached Windorah we came across Coopers Creek. This river is about 100 yards wide and quite deep, it cuts a deep channel of slow moving water through the desert around it. Alongside the river is free bush camping and the camper vans were all moving in close to the bridge, Coopers Creek named by Charles Sturt in the mid 1800's after the Chief Justice of South Australia.
We decided to stop here for the night as the lure of saving $14 dollars at a commercial grounds was too much for us. We crossed the one lane concrete bridge and turned right and headed up river. The path seemed to wind on for a long time but about 1/2 kilometre up the river we found a good camp ground, Plenty of room not too close to others and right on the banks of the creek, great stuff. With the tent pitched and the camp set up in an hour flat, we sat down with a drink and to reflect on the day. While I am writing this diary Alison is taking pictures of the sunset and all around the camp. This is one of the nicest stops we have had so far especially being free. Tomorrow the legendary Birdsville beckons.