Natural Sculptures of Girraween National Park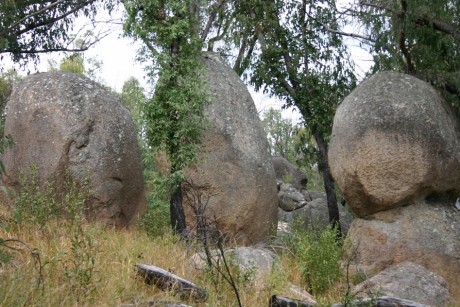 Today we thought we might fish or walk or both. I looked through the maps and the closest fishing spot was "Storm King Dam" about eight kilometres out-of-town. We found the place okay and it is clearly a stocked dam by the locals. In the pub on Friday night we had seen a sign that said they supported the stocking of a local fishery and so we thought this must be that fishery. Unfortunately we had completely forgotten about fishing licences. So with great regret we moved on to our second choice Girraween National Park. This turned out a great place as a second choice, it is clearly first choice for many others and I could understand that.
This park has the most amazing rock formations; it was a wonderland of natural sculptures with more balanced rocks than I have ever seen. We had lunch at bald creek day use area and then we walked to Granite Arch and after lots of photos walked up the Pyramid. We did not get to the top as we were not prepared for it, but we got to the edge of the bush line within in site of the top.
It's a great climb and a lot of fun; we know we will be back in this district. I bought a map to start planning.