A screech of brakes, flaps up at maximum and the jet engines screaming in reverse we hit the tarmac in Singapore, normally a place I pass through but this time I was staying a few days. This trip is different, instead of flying off for business I am on holiday with Al, and we going to stay a couple of nights in Singapore all part of Al's birthday surprise for me as I have just turned sixty.
The time was around 7.30 pm when we landed and by the time we'd picked up the bags and gone through immigration and customs it was around 8.30. The exit to customs was pretty slack, we just wandered through a glass sliding door, with the official paying us very little attention at all. The only person standing waiting was our driver for the hotel, a smiling Chinese man, he quickly confirmed he had the right pick-up before taking our trolley full of three weeks luggage to wait for our car. The air was humid, and sultry at 30 degrees, he darted off to pick up the car and left us sitting watching the world go by on the footpath, on holiday at last. It took less than thirty minutes to get to our hotel, "The Stamford" which is in the "Raffles Mall" complex.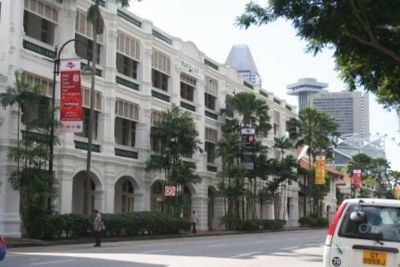 The check-in clerk, told us he could kindly put us up in a King bed in a smoking floor, we declined. He said it would have to be twin share queen beds in a none smoking room. We said fine, and he fiddle with his computer about five minutes and finally triumphantly declared he could put us up in a King Bed on a Non Smoking floor, however it was on the 41st floor of the building. I am not sure why he thought that was a problem, unless he was picturing us walking the 41 flights of stairs. We accepted and before we knew it we were in our room looking out over the lights of Singapore. It turns out the hotel has over 70 floors, it is huge and we are not up that high compared with many others.
It was after nine at night Singapore time, which made it after eleven Brisbane time, but we decided we would go for a walk anyway and see if we could find food and perhaps a drink. Stepping out of the hotel and walking around the corner we found the famous "Raffles Hotel". It is famous for a host of reasons, including the reputed slaying under the pool table of the last surviving wild tiger in Singapore and the invention of the "Singapore Sling" by Ngiam Tong Boon a Raffles bartender. The drink was invented apparently in the "Long Bar" and so we found our way to the long bar to have a drink. The long bar is in old colony British styling with dark cane furniture, and fans on the ceilings that are like ordinary hand held fans, on a long pole that moves backward and forward. I am not sure how effective they are but the look pretty good. The tables all have small wooden containers on them full of unshelled roasted peanuts. The floor and the tables are littered with the shells of the peanuts left over after patrons have devoured the contents.
I nearly needed to find my banker to order drinks, it seems Raffles significantly over achieve on collecting profit from their drinks, to purchase a single beer was $20, which is four times the price I would have expected to pay in Brisbane an Al's pina colada was similarly overpriced. However we wanted to drink in the famous Raffles Long bar and the drinks price is part of the experience.
Fortunately we were both tired and so after one drink, and making a huge mess with the peanut shells we decided to call it a night.