Today we needed to book the last of our tours and I had decided to buy some singlets and T-Shirts. Back we went to Patong Beach to hit the markets fairly early. The markets are not far from the Merlin Hotel Patong and there was rows and rows of stalls all selling much the same things, the usual, monogrammed singlets, T-Shirts, Shorts, Sun Dresses, Sarongs, table clothes, cushion covers etc etc.
After an hour of shopping that netted two Singlets, two T-Shirts, two Table Cloths, and two dresses we headed to one of the twenty or so small bars set up in a courtyard in the middle of the markets. Most of these little round bars had an Aussie name of some sort and three or four staff in the middle.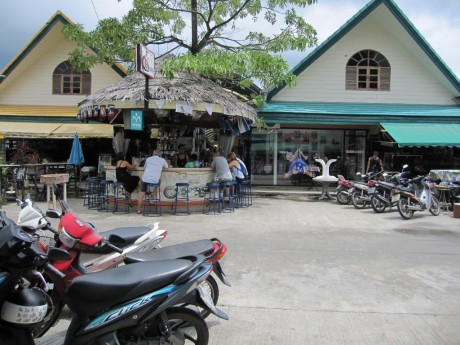 It was still around midday and nobody was up and around yet. We had a beer and headed off looking for lunch.
Rain hammered down at exactly the moment it was time to leave the bar, so we hung on a little waiting for a break. When the drops were far enough apart we headed back to the beach for lunch, booking an elephant ride the tour, purchasing some bits and pieces before hitting the beach front. The hawkers, are constantly hammering you to buy things, and take tours. The restaurants on the beach front were either huge bar complexes or fast food outlets so we ducked into an alley and found a suitable grotty Thai restaurant.
Lunch was great and it was time to head home, on our way to grab a Tuk Tuk we found the bar district and determine we needed to visit this one night.
We spent the afternoon having a quick swim and playing cards in the bar as the rain continued all afternoon.
Dinner was at another low budget restaurant up on the cliff overlooking our resort complex. It was not bad food and cheep with no frills