Snorkelling Boia Boia Waga

We went snorkelling Boia Boia Waga for the day, it was certainly some of the best I have done. It was a beautiful day out on a very small island at the most eastern tip of PNG mainland.
The trip was pure magic; it gave me a perspective of an environment where there are no modern facilities at all. No roads, no running water, no sewage, rubbish collection, electricity, certainly no mobile phone coverage, nothing. These people all live in huts literally made from the bush around them, they live on what life brings them from the sea and the jungle. You have this sense of awe, that life here is self-sustaining in such a happy way, it gives you peace of mind to be here.
Our boat stopped a few hundred yards from an island and we piled off the back into the sea and headed into the coral around this tiny coral island of Boia Boia Waga. The name is almost bigger than this little white sand speck in the Solomon Sea. The snorkeling was however spectacular, I have never seen so many fish in one place. Large schools of blue neon like fish and a huge variety of coral fish, it was like diving in an aquarium. The water was exceptionally clear and bloody cold. You didn't expect that did you, well neither did we, the day was cool but not freezing and the water was not the normal 28 degrees Celsius I am used to in these circumstances. We were there in August and this is winter so I suppose we should have expected it, but we in the tropics and I am afraid it broke a lot of myths for me.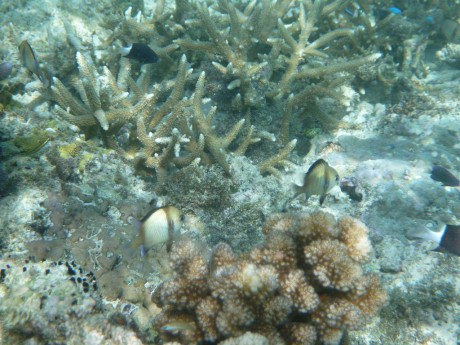 While we snorkeled the coral, the crew ferry a feast to the shore and set up a big tarpaulin on the beach. We had a nice spot eating a significant picnic lunch washed down with wine and beers before wandering around the island like stranded sea farers. A complete circumnavigation was of course necessary, taking from 15 to 20 minutes, in true tradition we should have given it our own name, but we refrained.
There were locals on the island, just hanging around their canoes, enabling us to get a good look at the vessels. They had caught a tuna and I suppose that was enough for a meal for the village so there were just hanging out.
They fish using a one or two man outrigger canoe made from the bush where the only sign of modern life, is the fishing nylon used to tie the struts together in the actual out rigger. The canoe consists of a log which has been hewn in the canoe shape and hollowed out. The canoes all had outriggers made from branches lashed to the canoe and then a small log cut to shape at the end lashed with the fishing nylon mentioned above. I saw all sorts of seating arrangements, from none at all, you kneel, to a wooden box to sit on and a plank jammed across the inside or across the top. While most of them work close to the shore I saw a few way out in the Solomon Sea well over a kilometre off shore.
With a very lazy afternoon over some were ferried back to the dive tender, others swam back and those locals who were just hanging got to help tidy up and finish the food we had left. We headed back to the lodge, from a magnificent day. This holiday was just going to get better and better.