The sun rise from our hotel across the constantly misty layers of mountains is nothing short of breath taking. After breakfast it's back pack on and start walking around the trail by the lake, the simplest way is to head right because it 's there. Very quickly we are out of the noise and chaos of the Shueishe village and jetty and walking along a boardwalk beside the lake, viewing stunning vistas towards the lake. Dotted along the footpath are guys fishing, tucked down in the bushes shores as we would find them anywhere around in Australia. Dotting the lake are fishing barges that have a little hut at one end and at the other a gantry suspending a net over the water, which is lowered into the water to catch fish.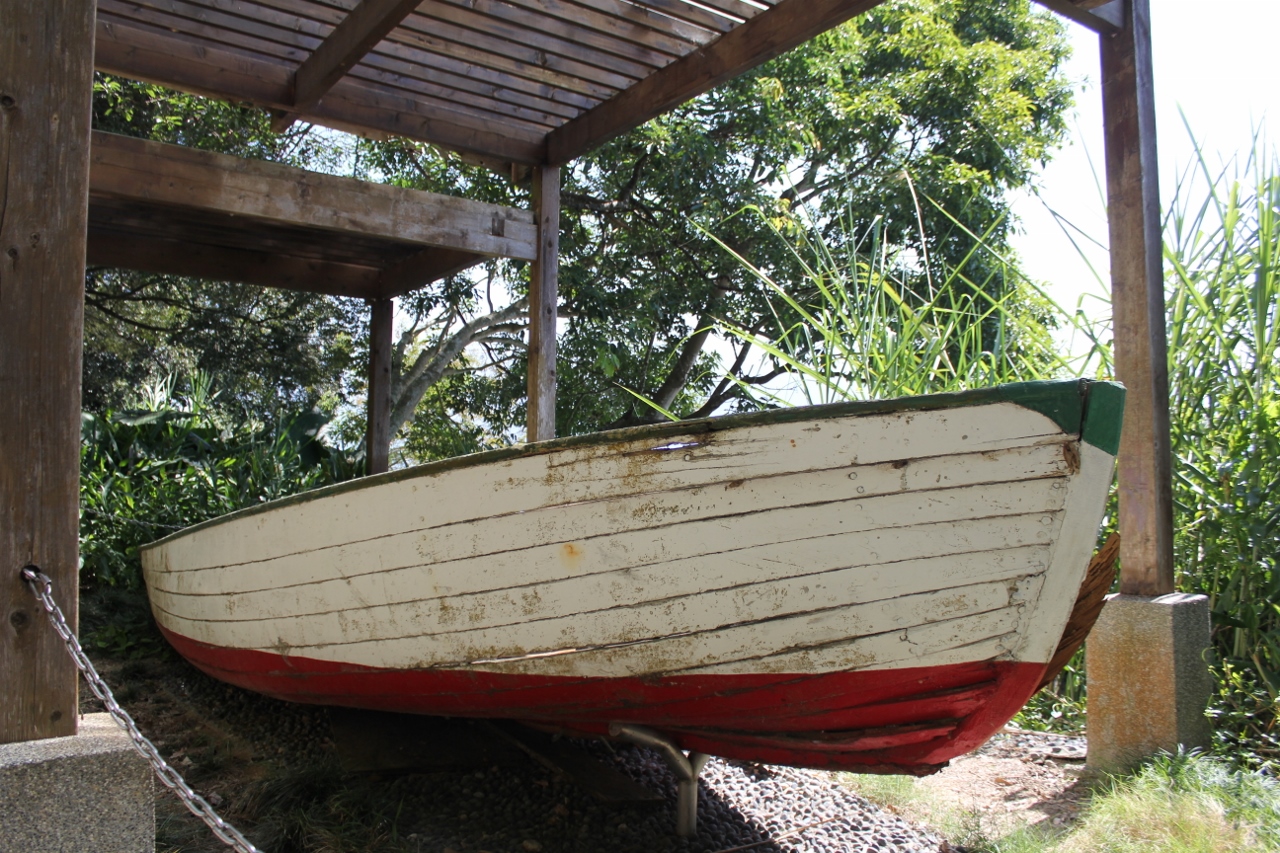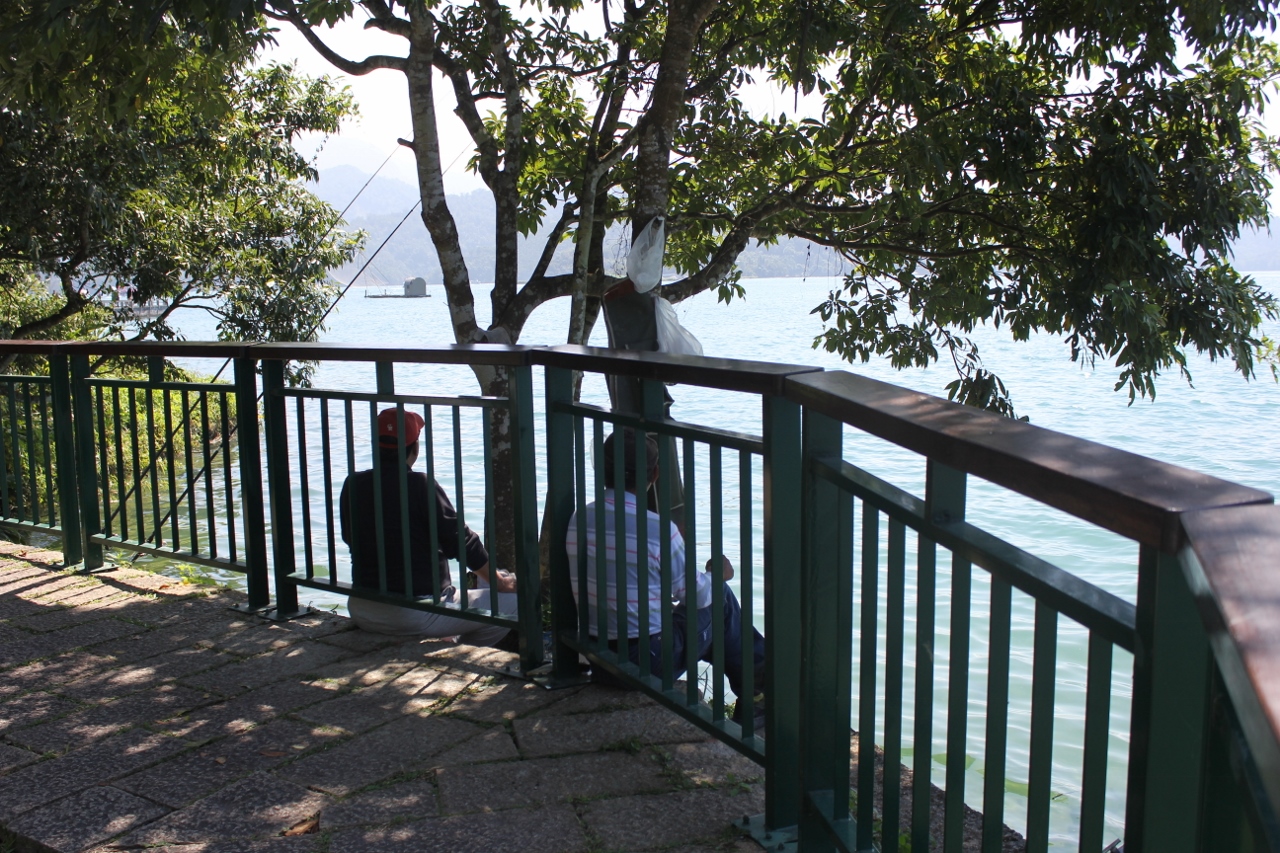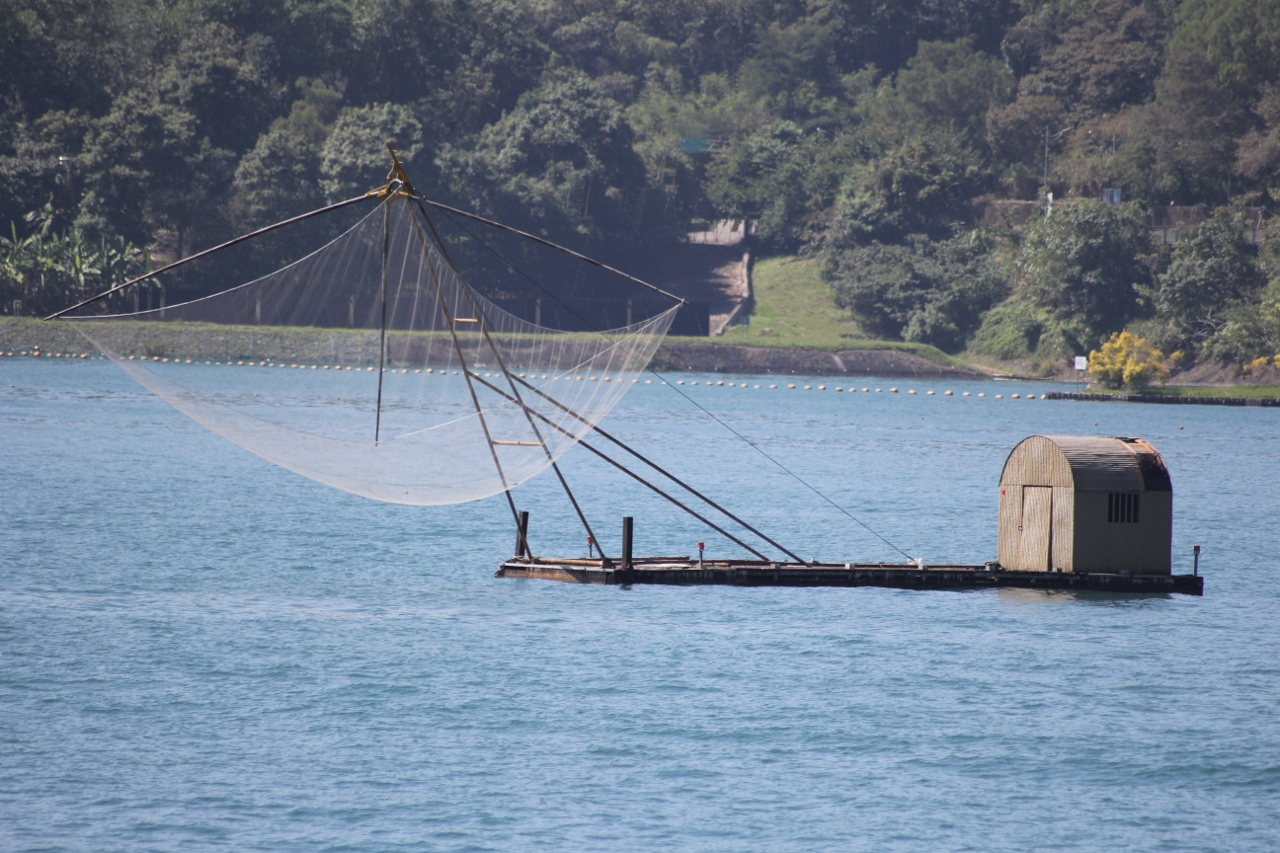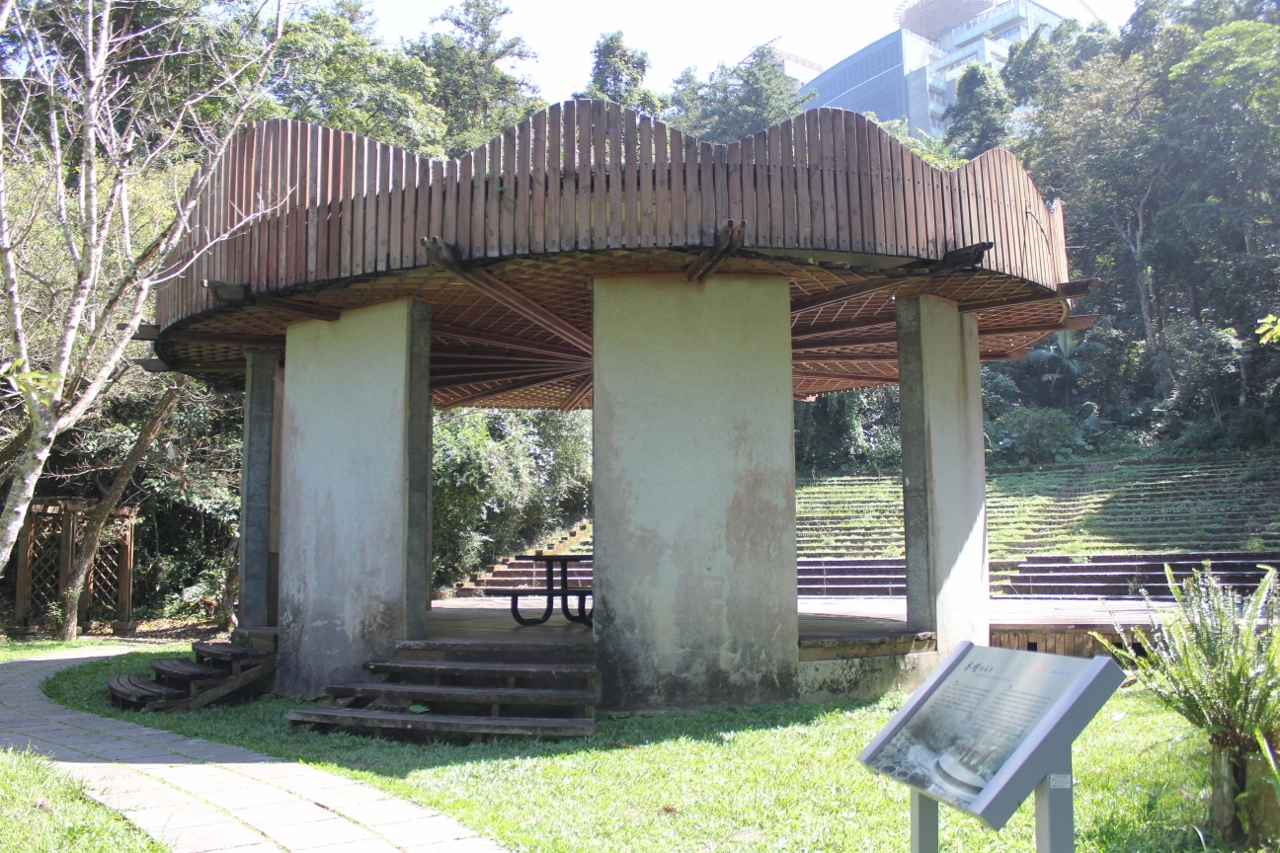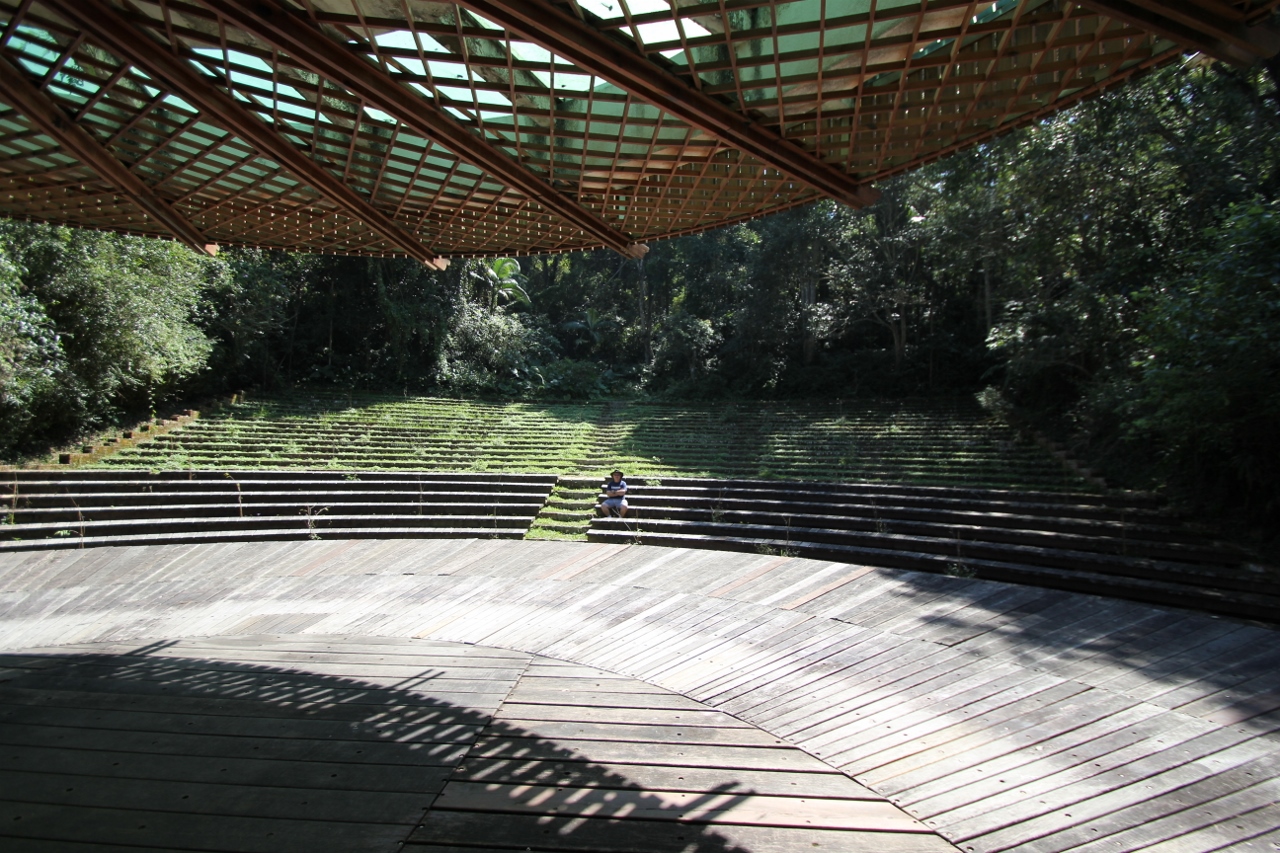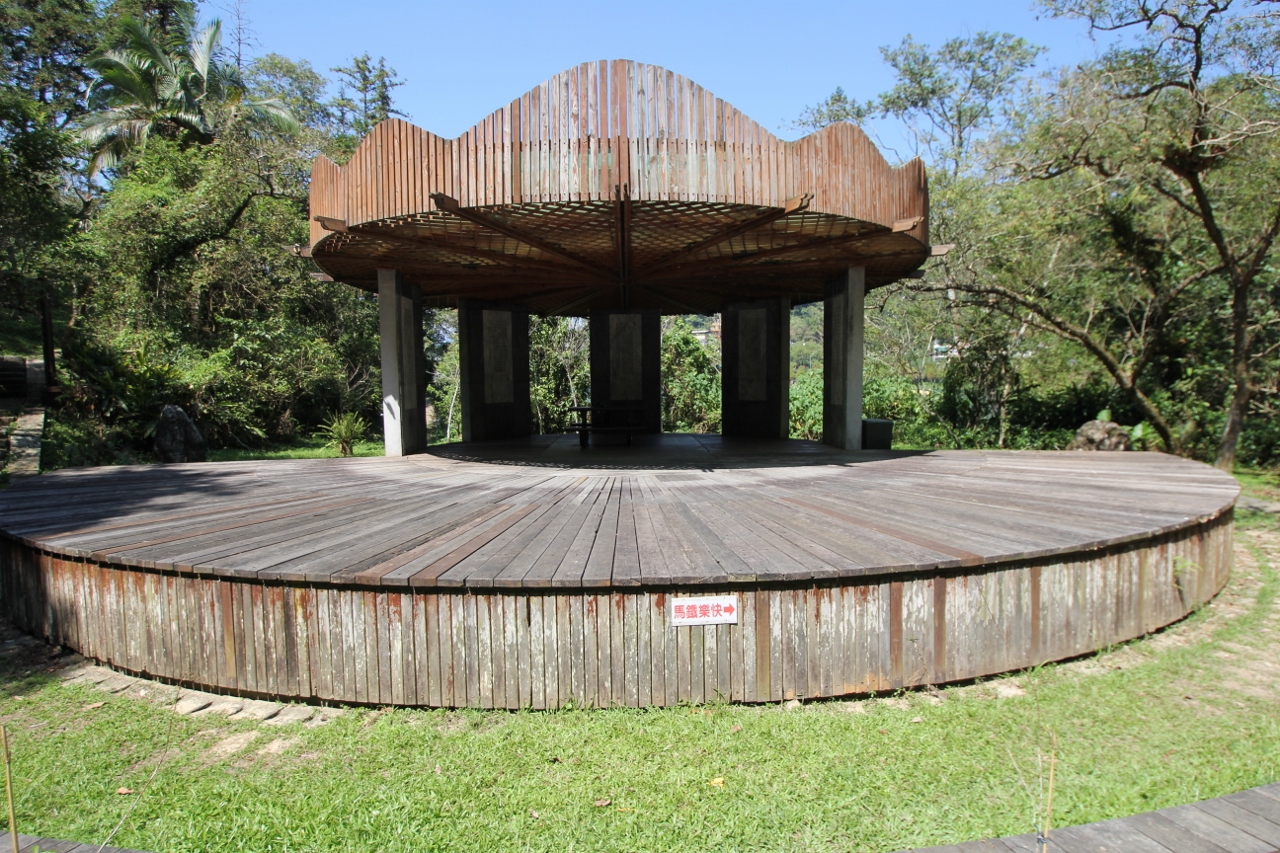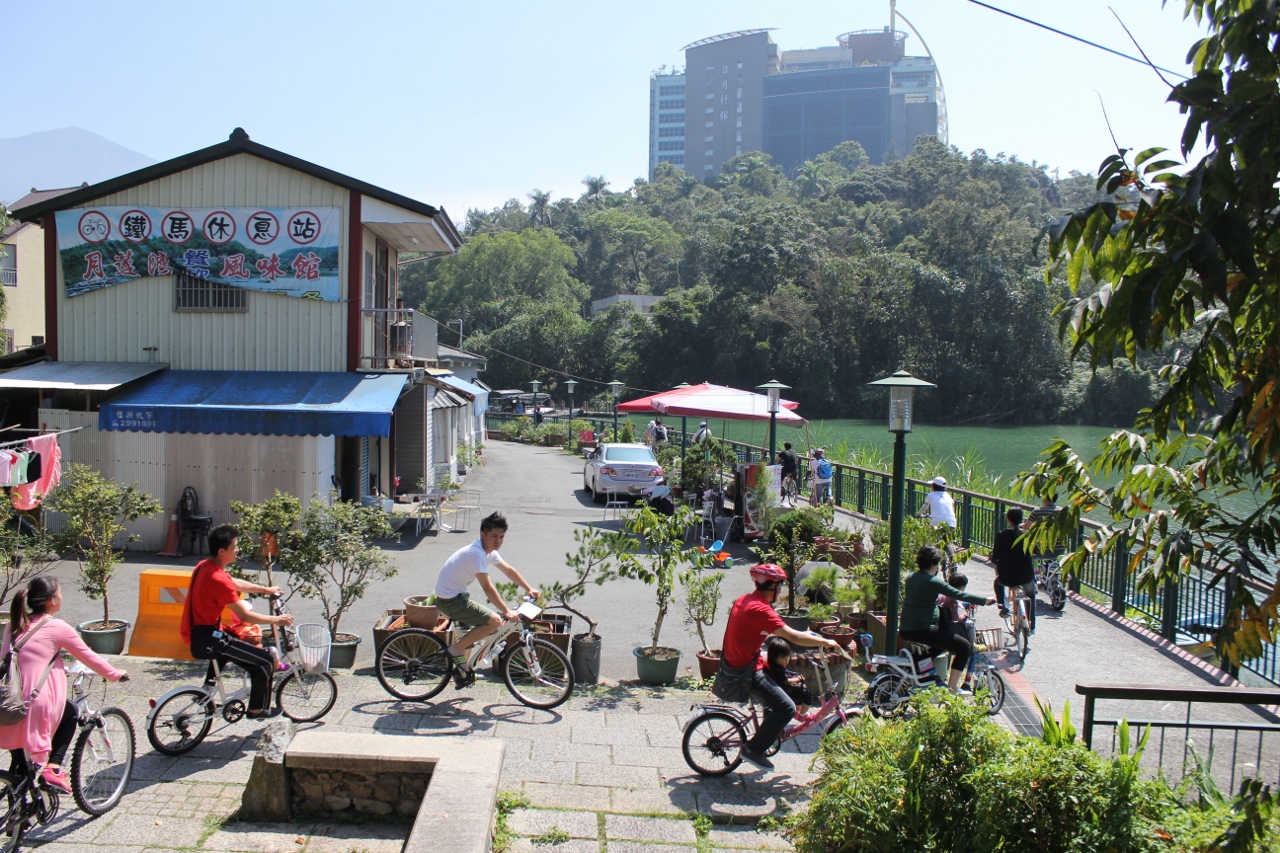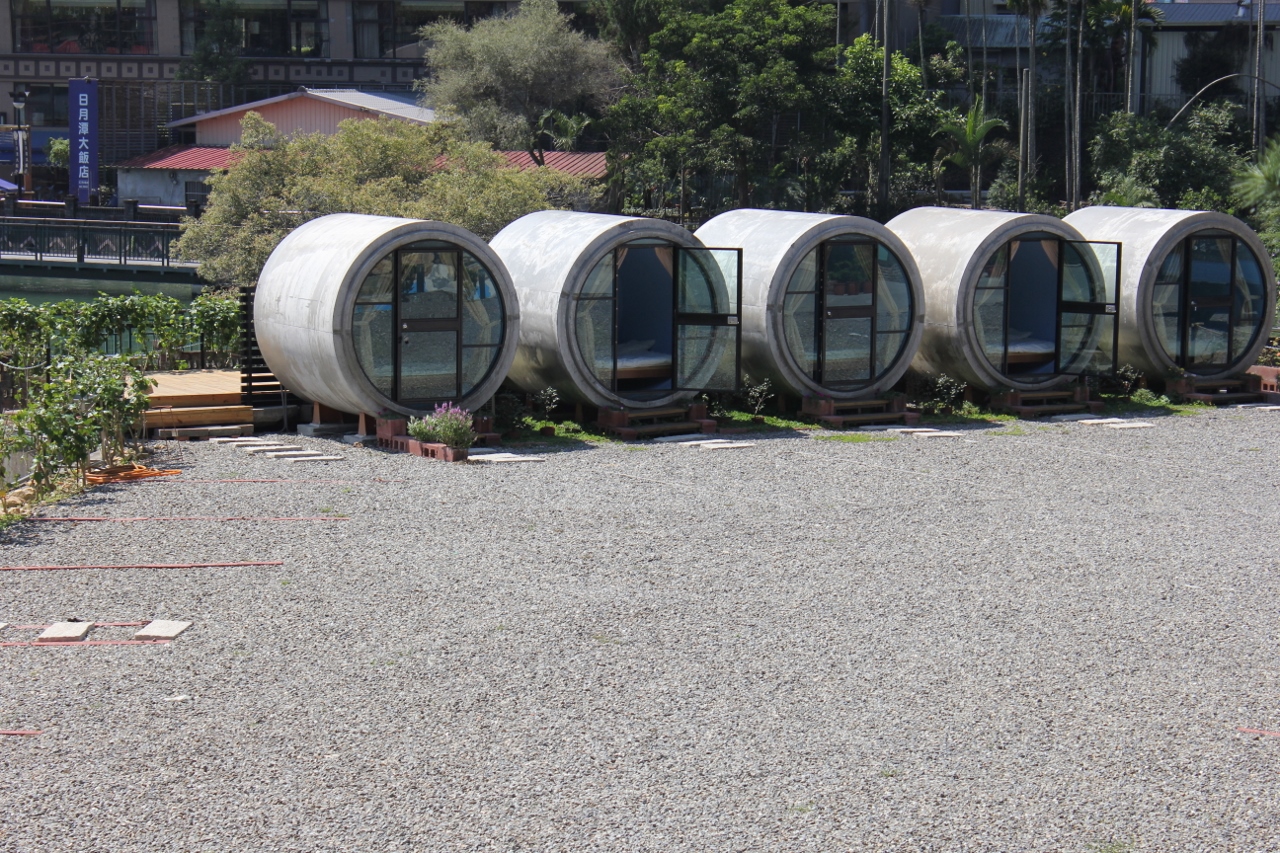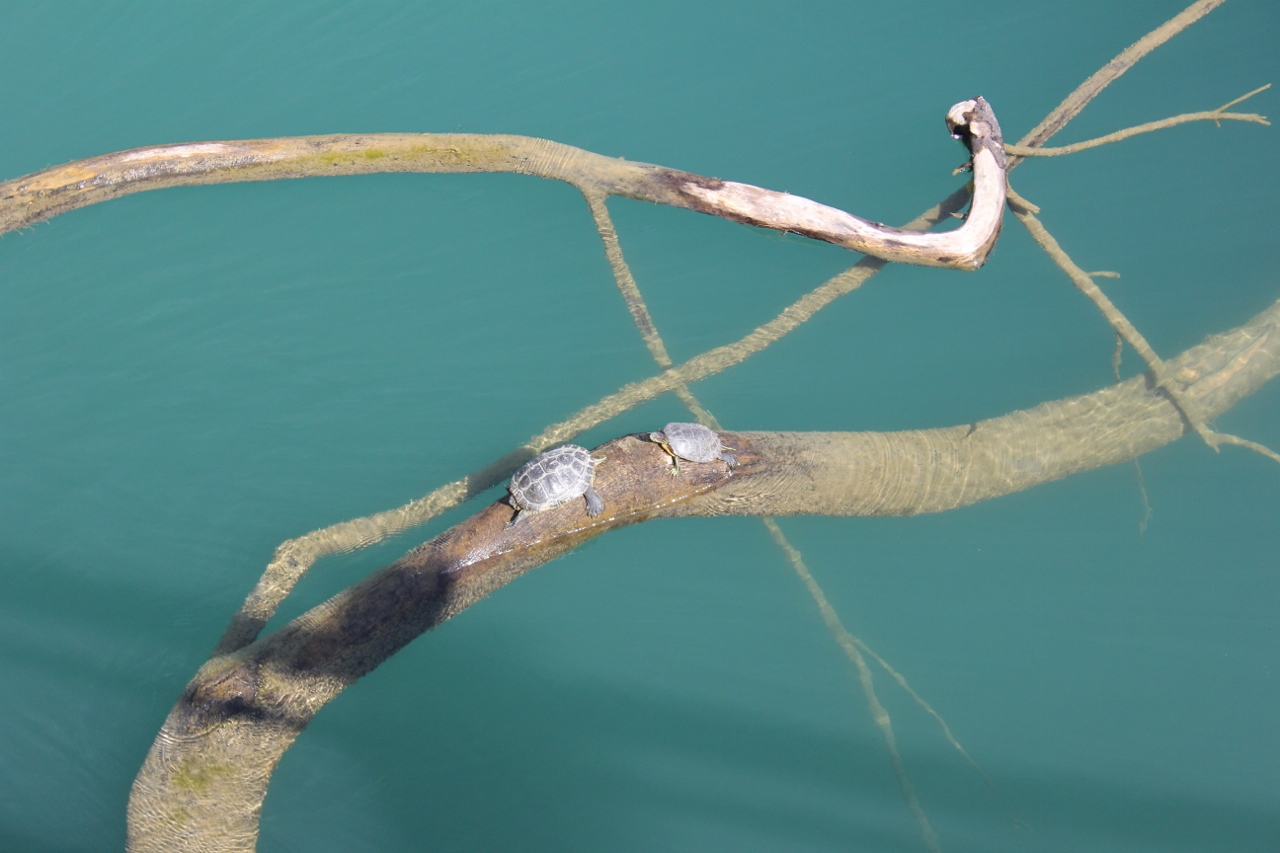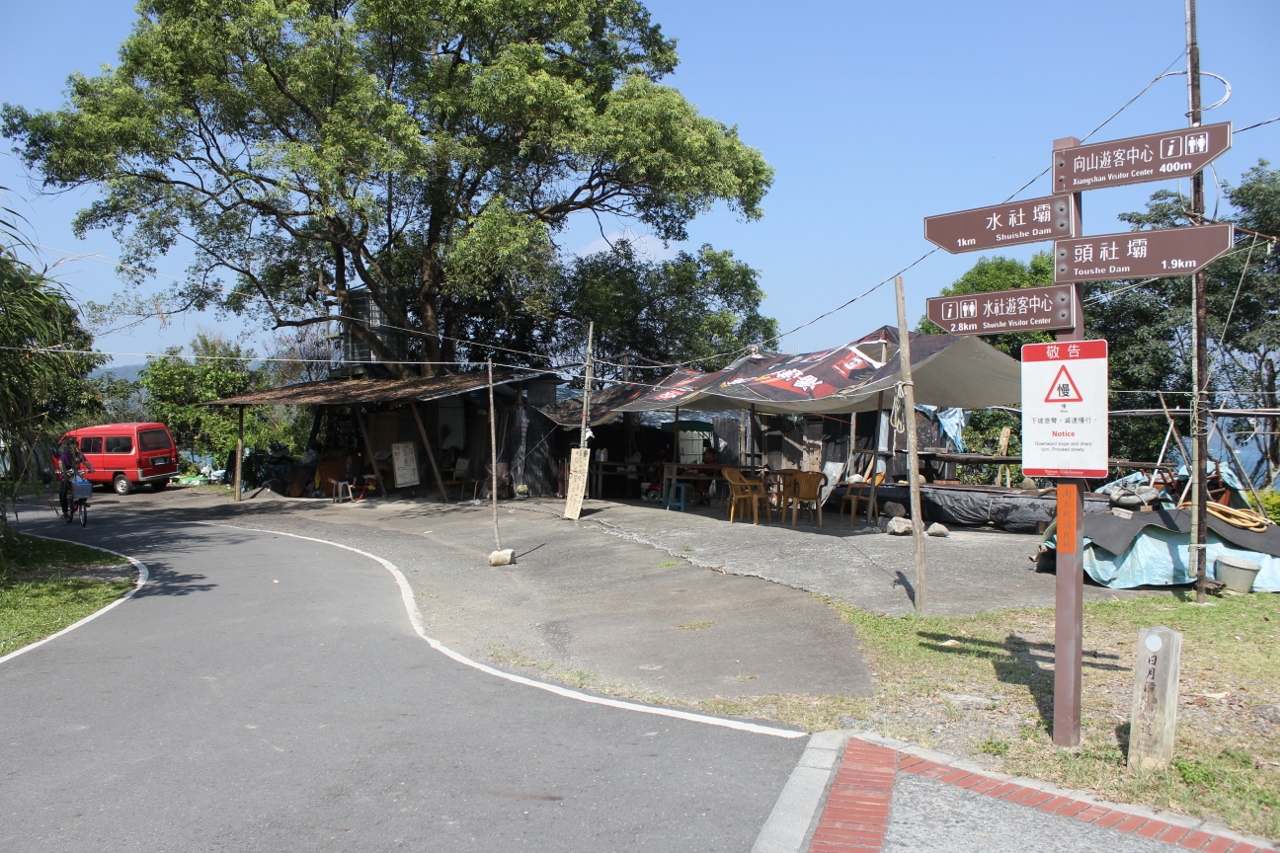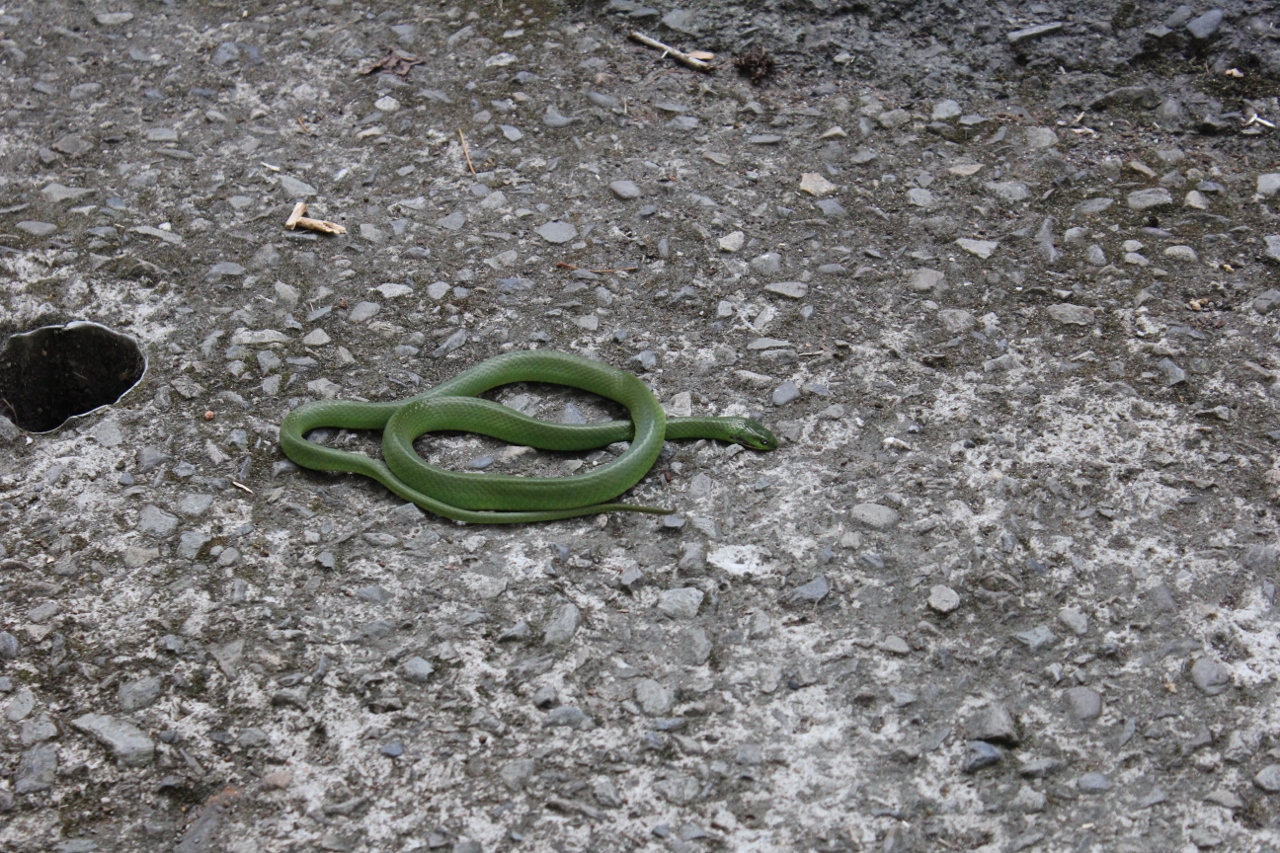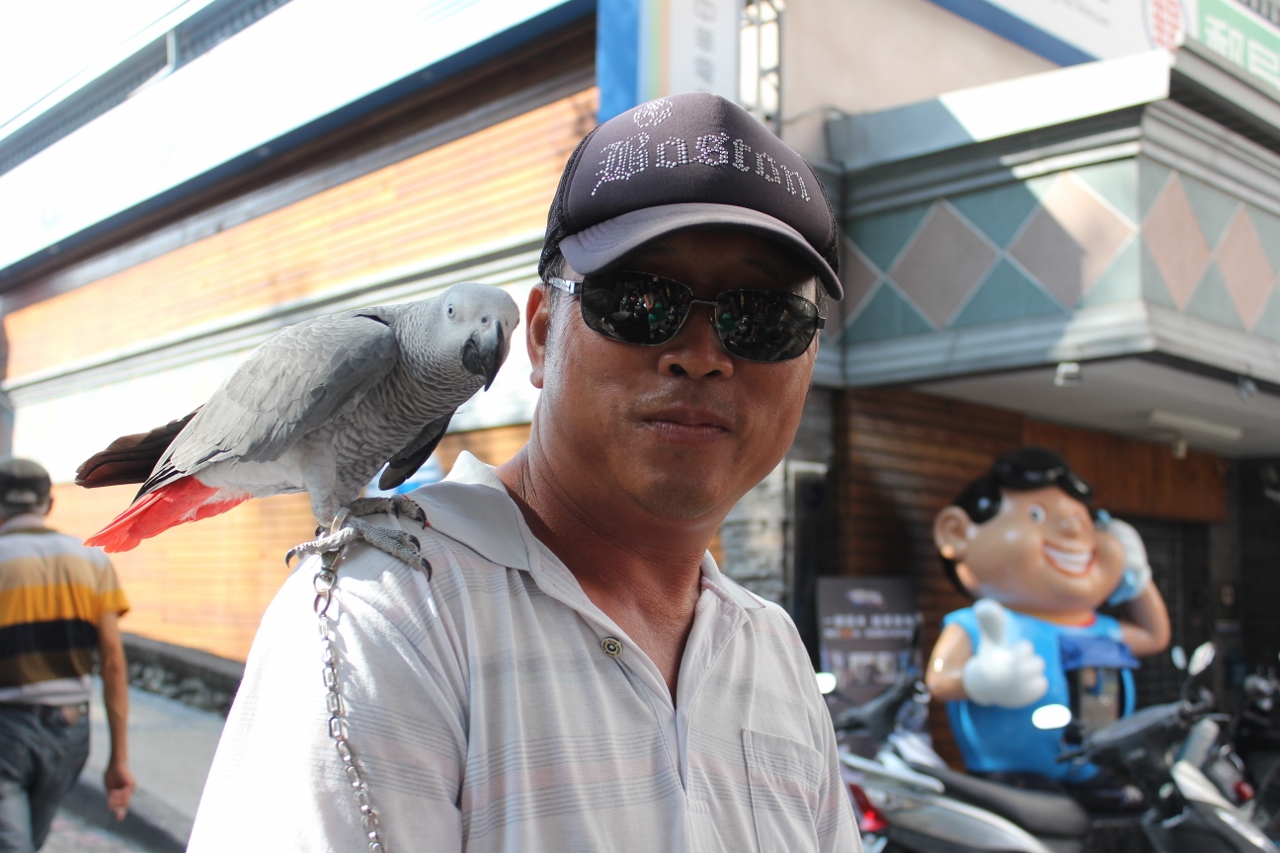 Prev
Next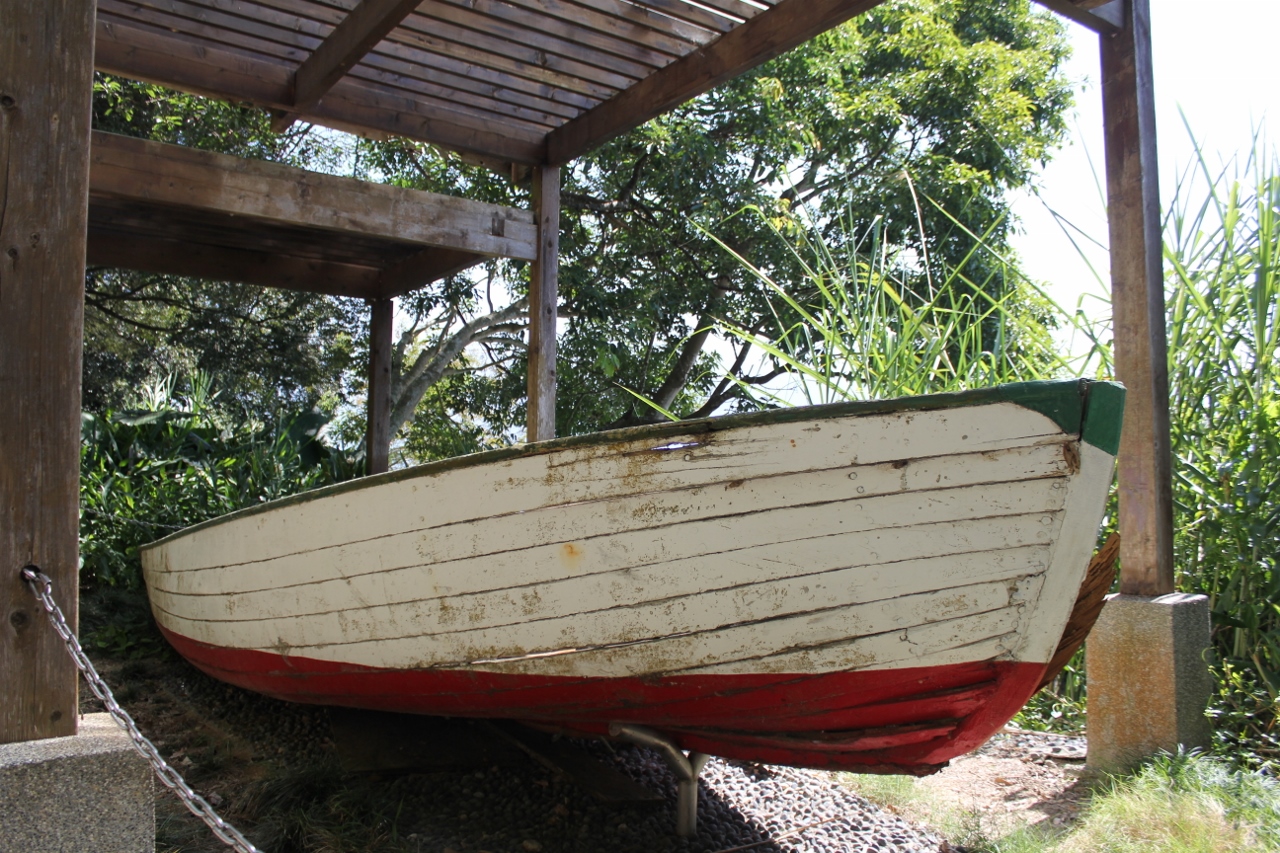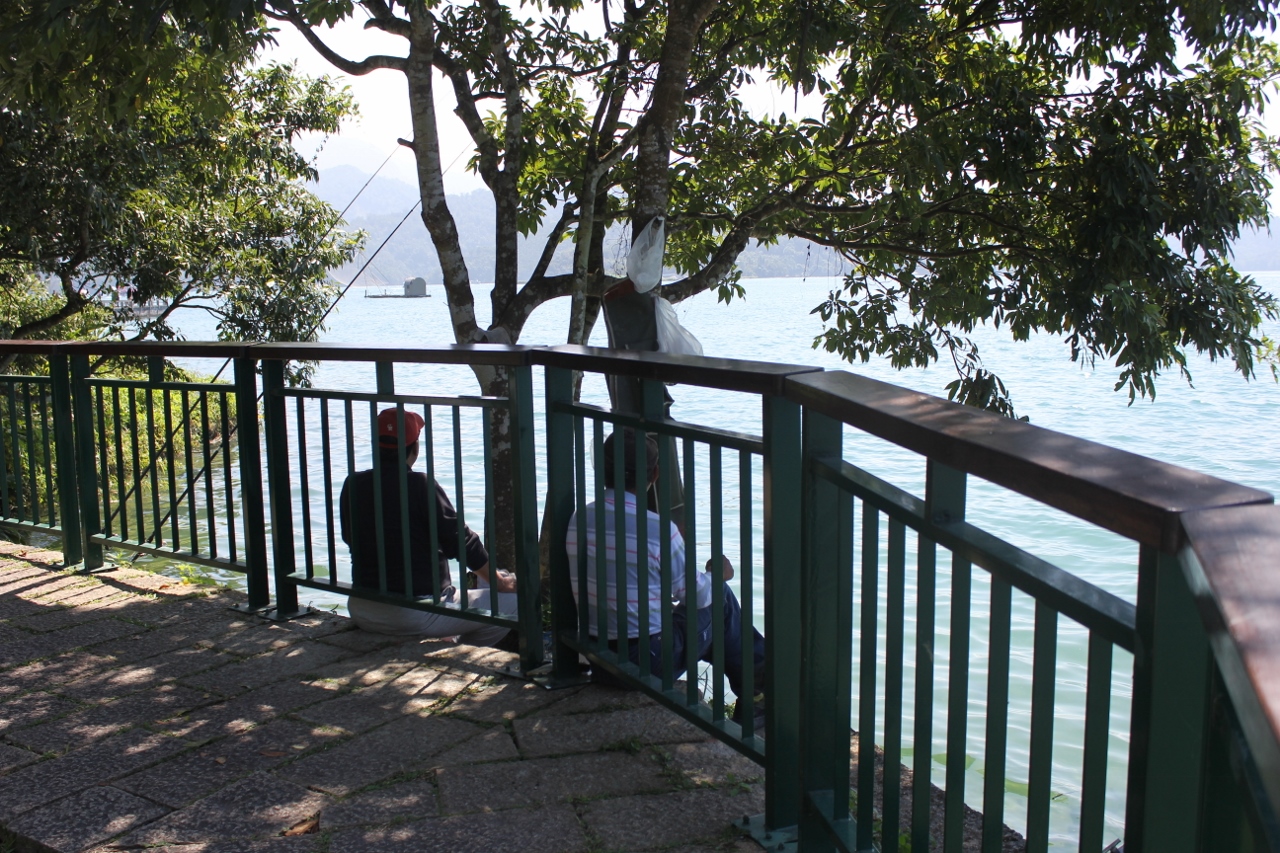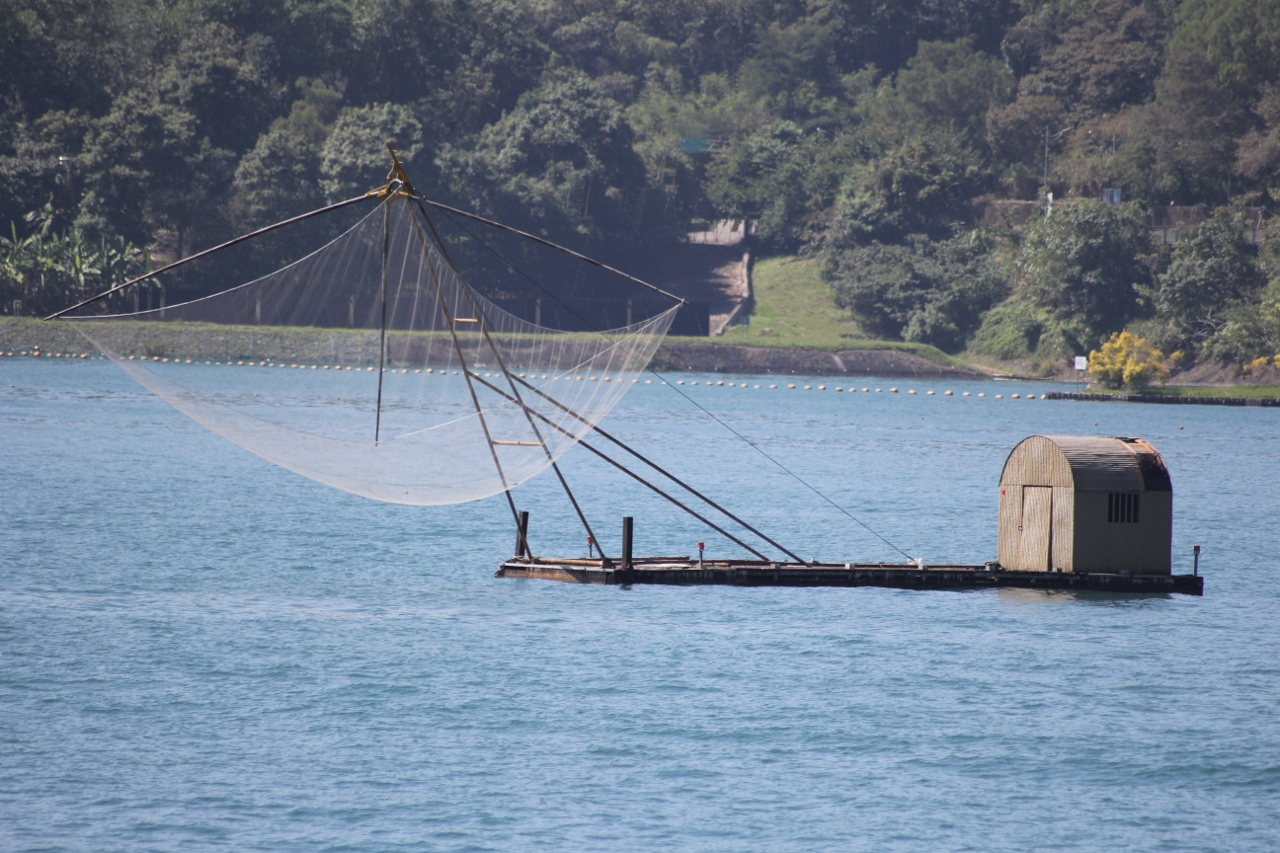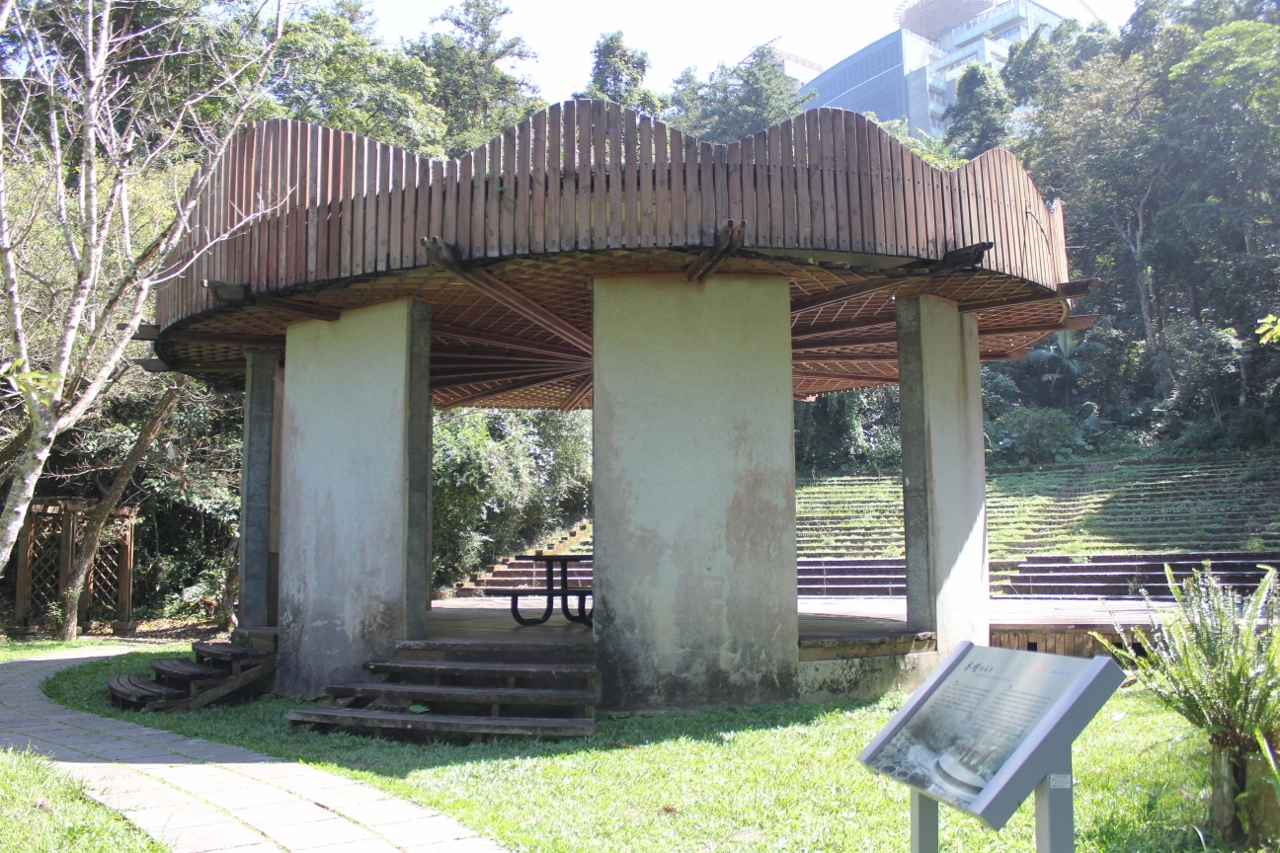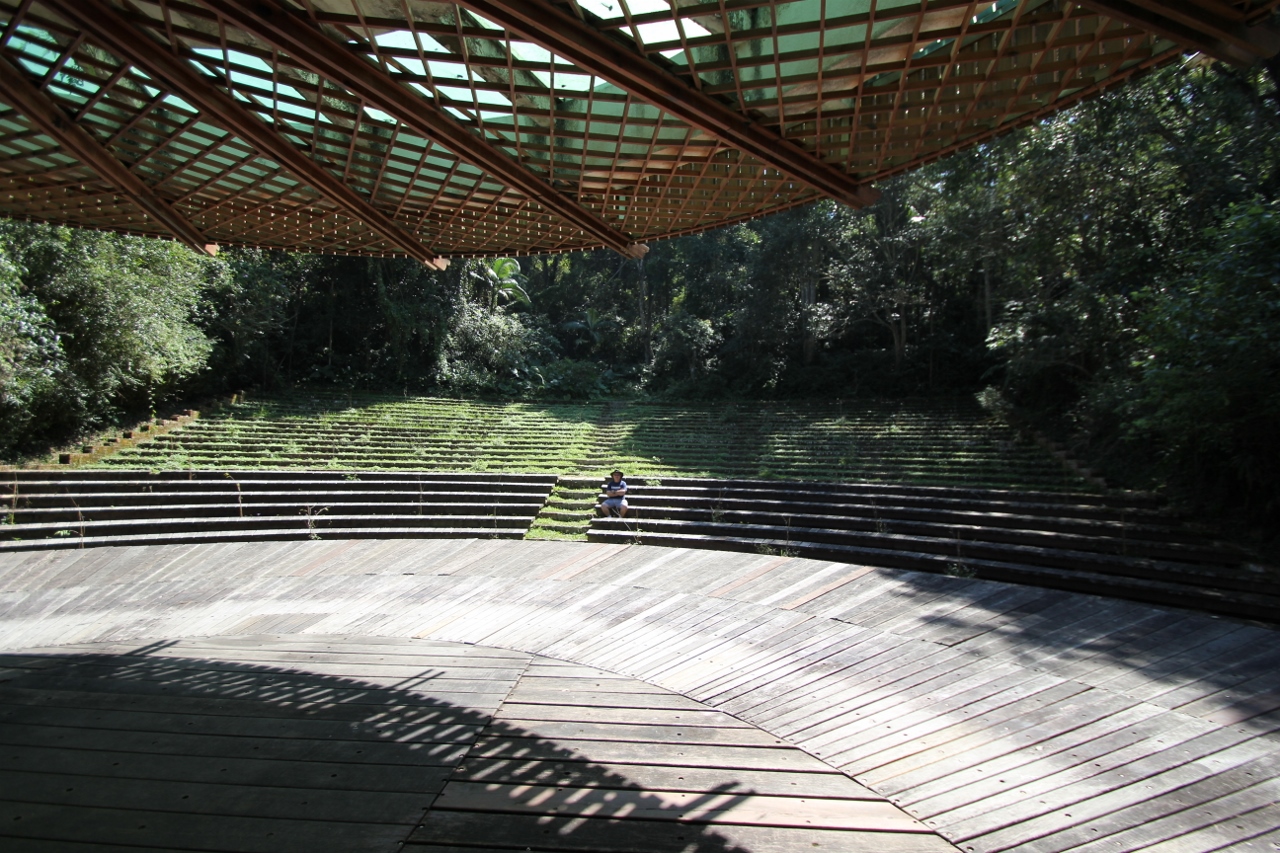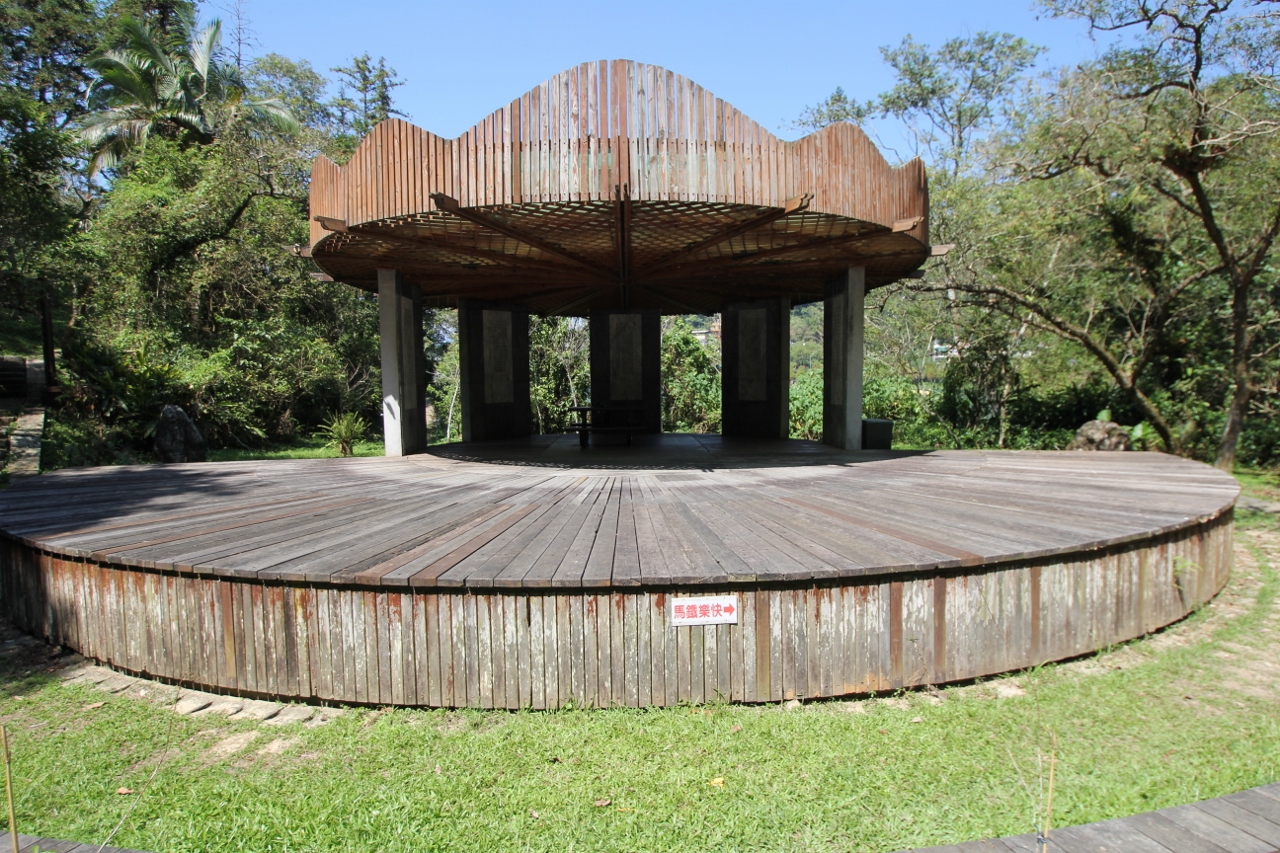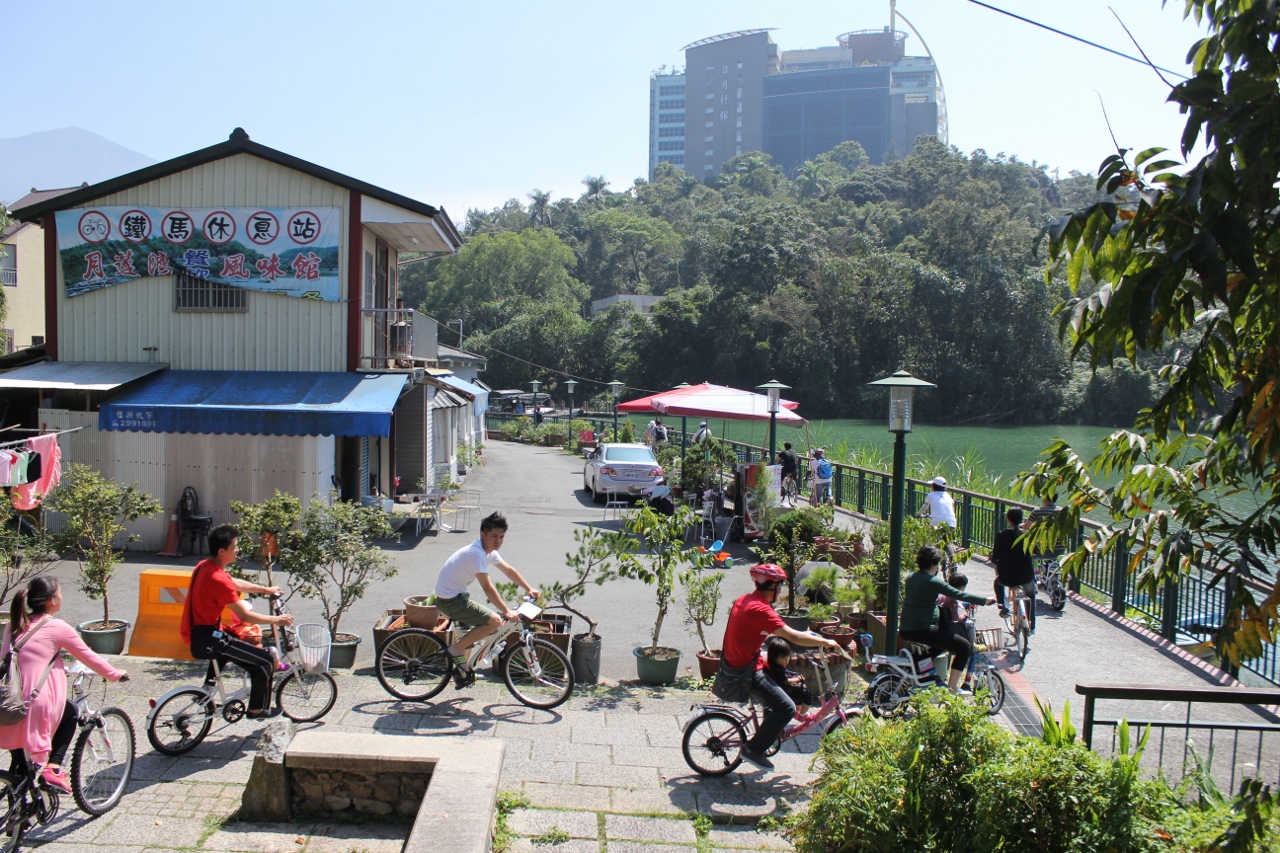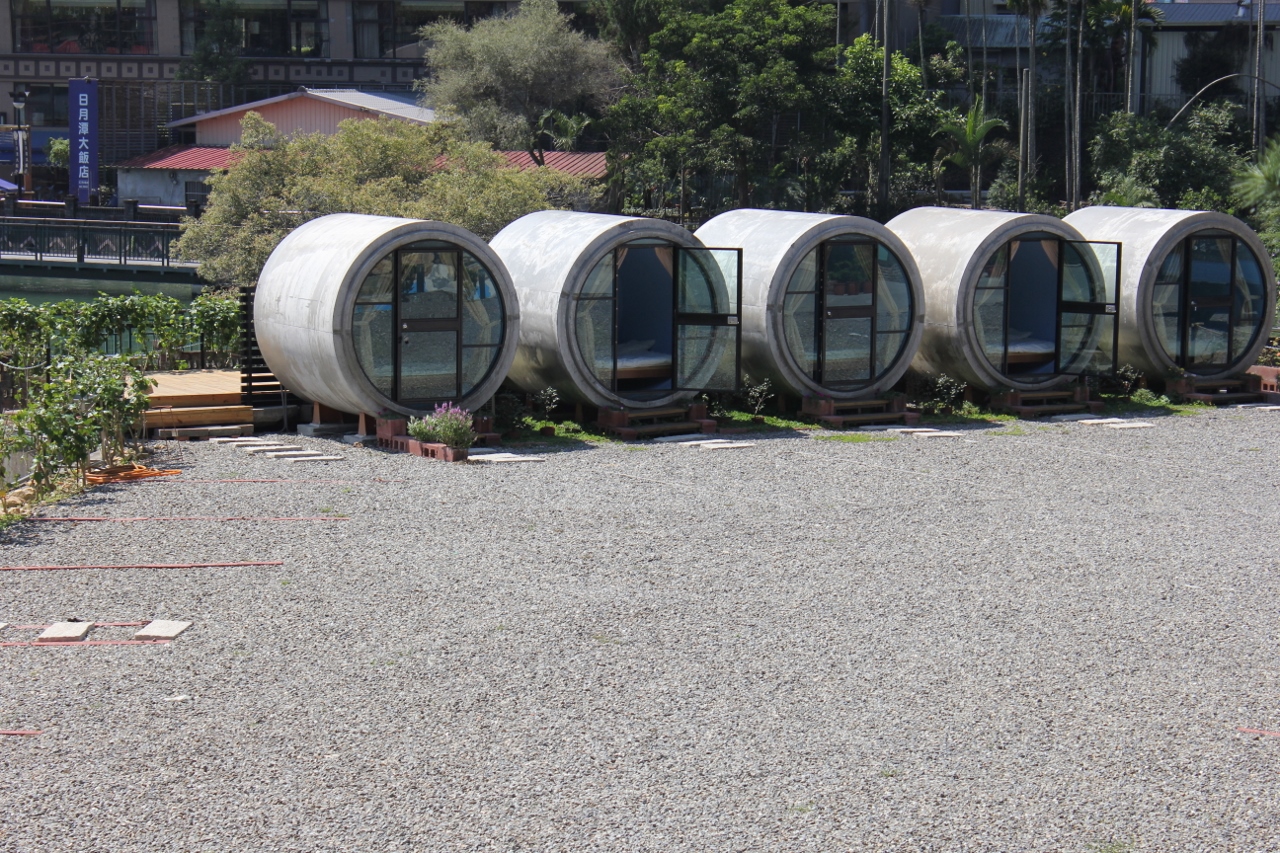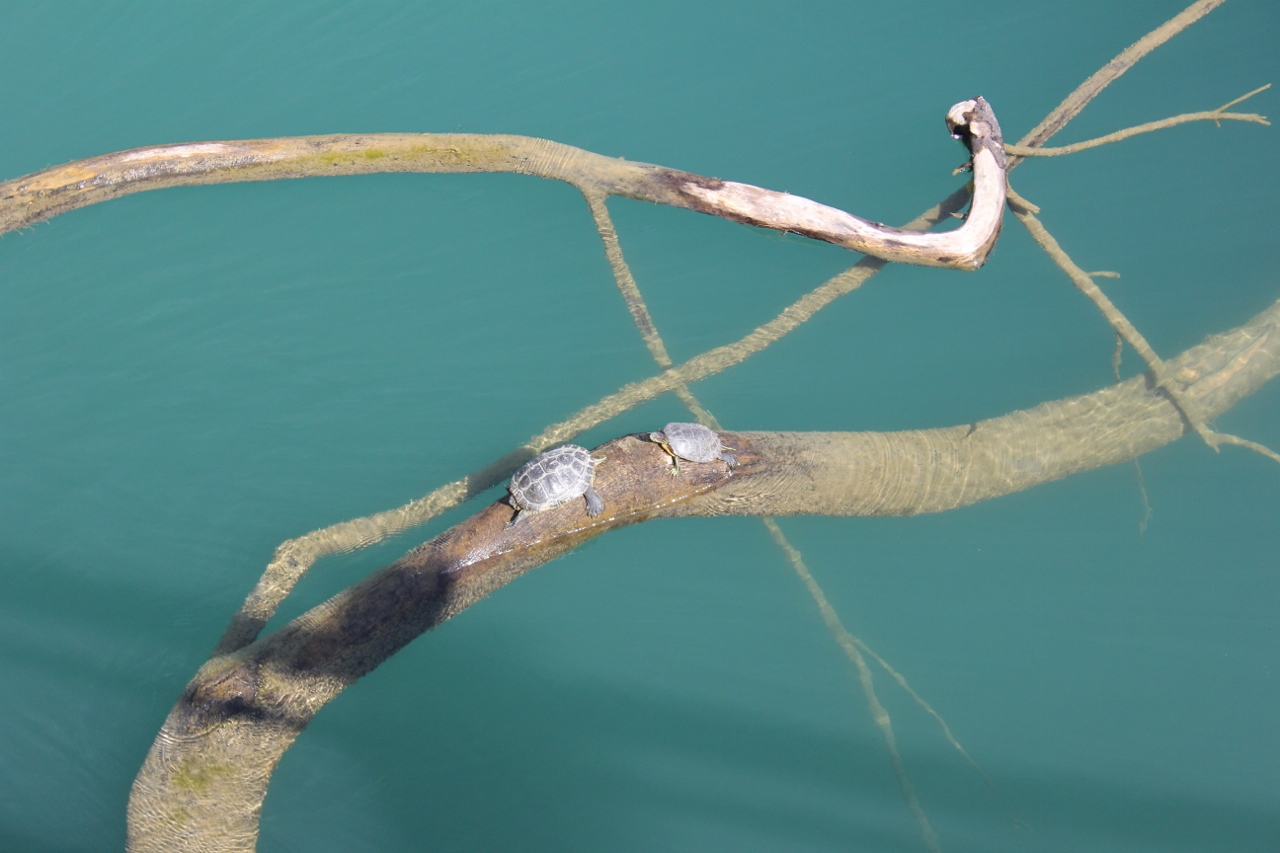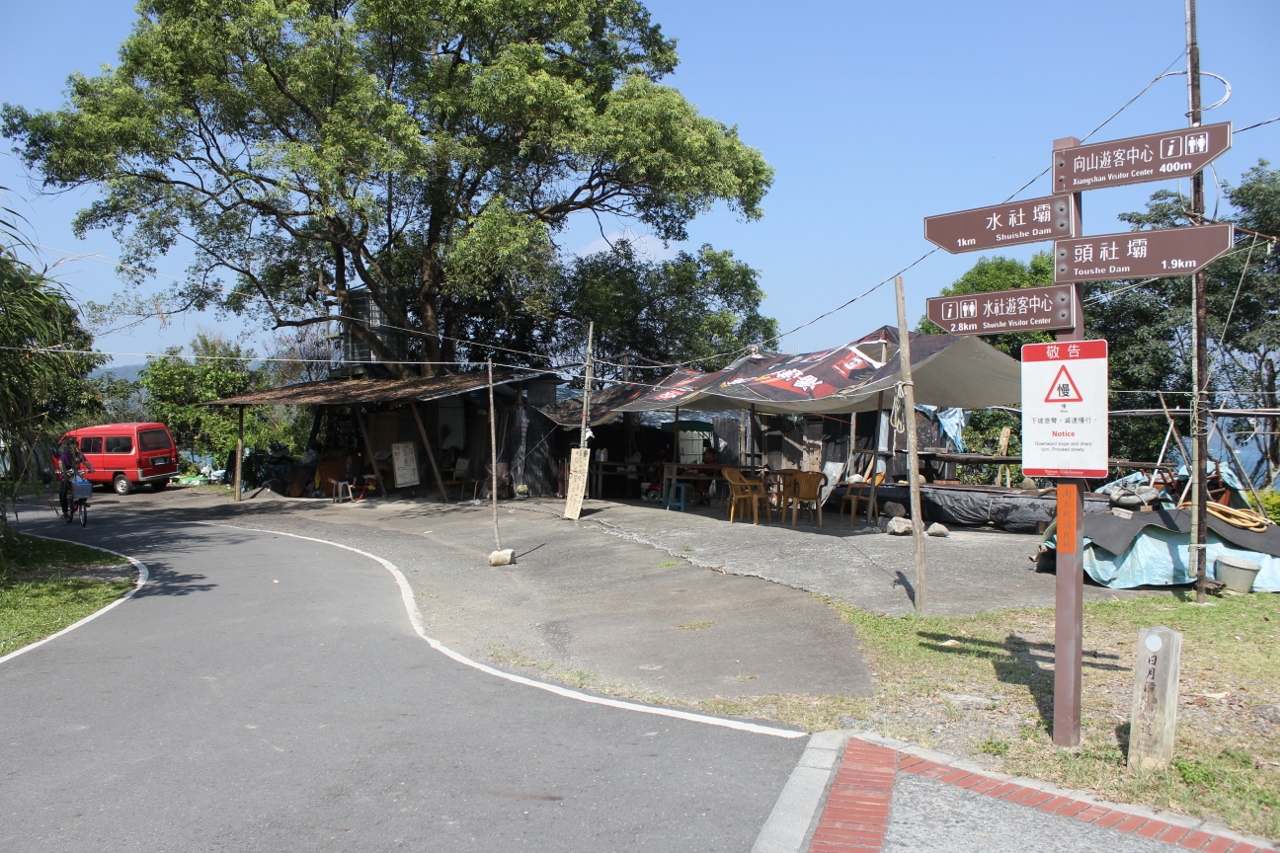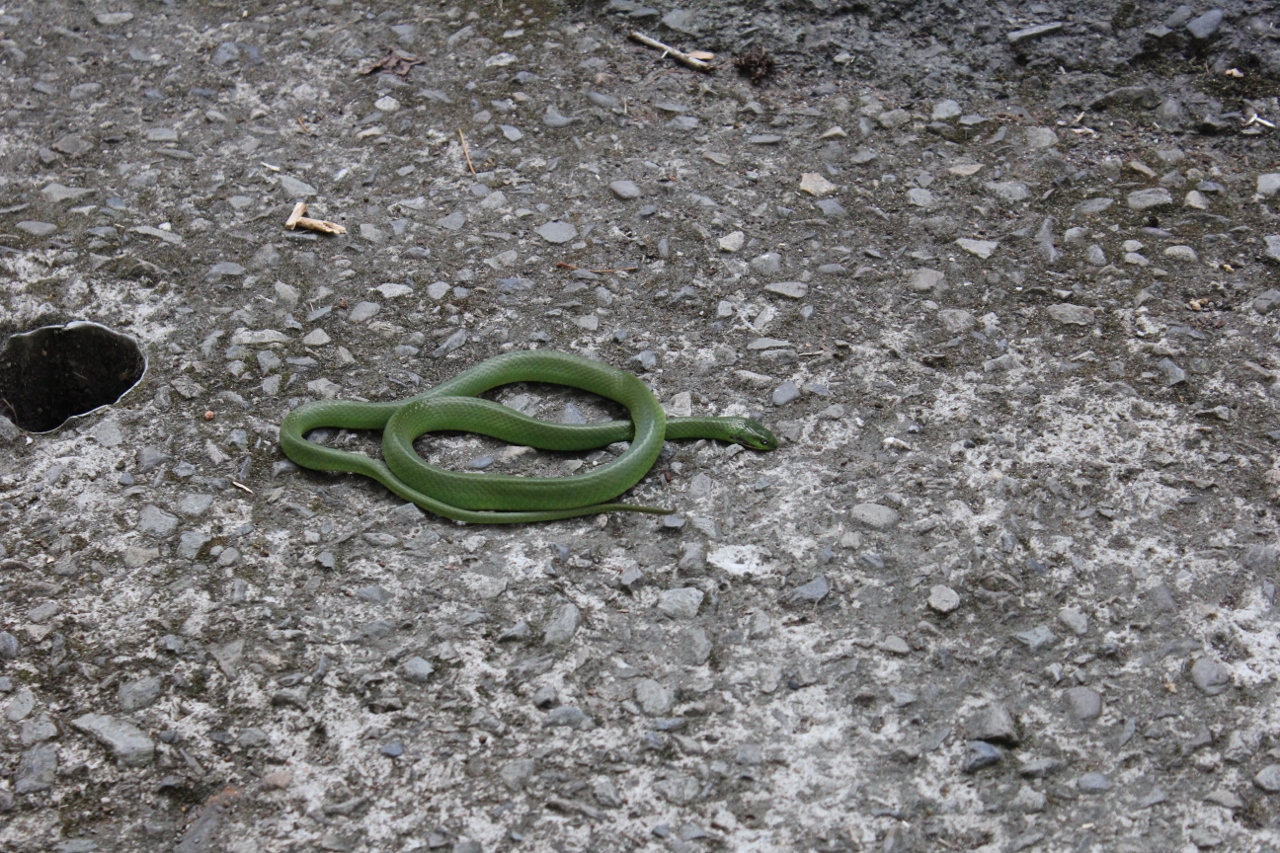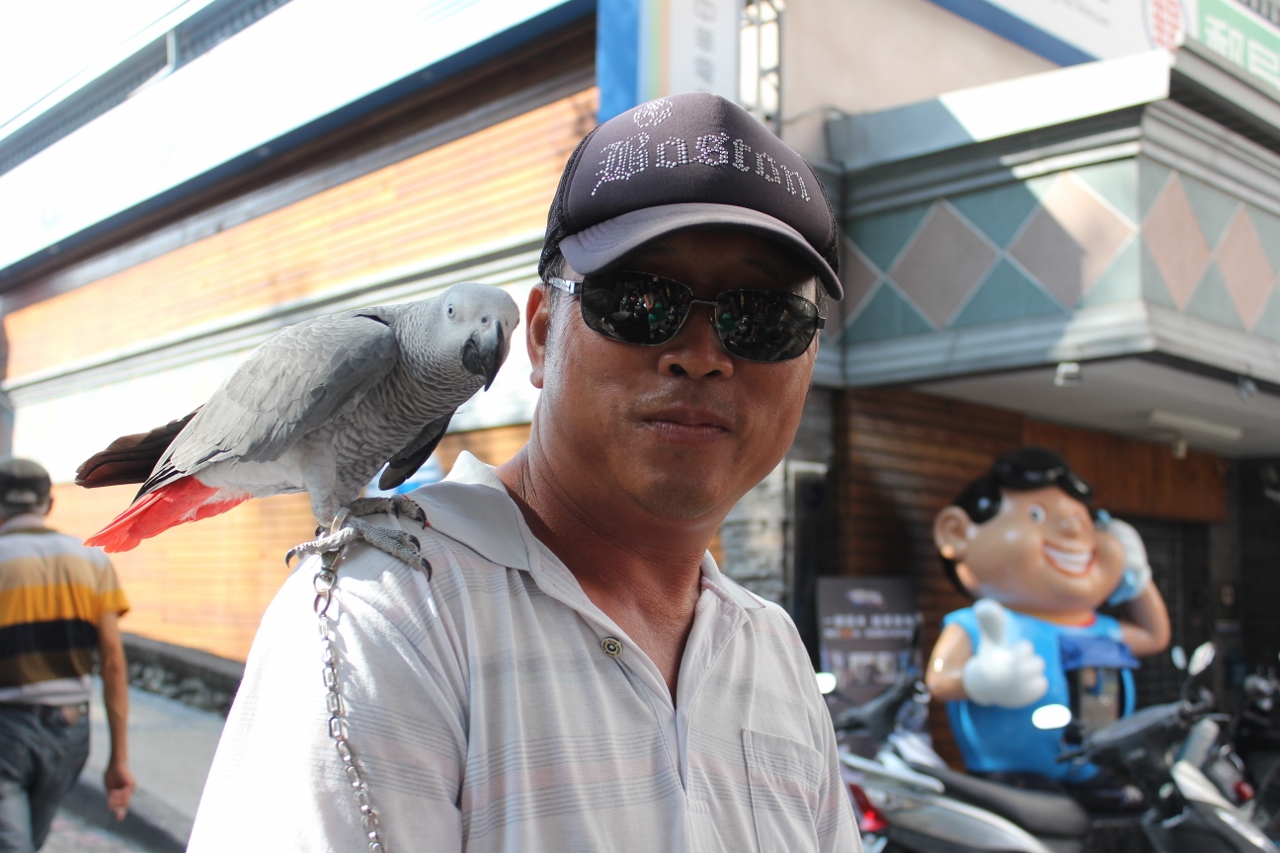 Although the lake had a huge amount of lake traffic it didn't really have any private boating going on, no privately owned yachts or power boats just heaps of charter boats. The walk took us past Chiang Kai-shek's jetty and guard house, apparently this was one of his favorite places. Hot , sweaty and our water running low we rounded a bend to see the buildings of a village appear. Good a place for to top up the water or even sit in the shade with a cold beer and watch the Chinese tourist having fun.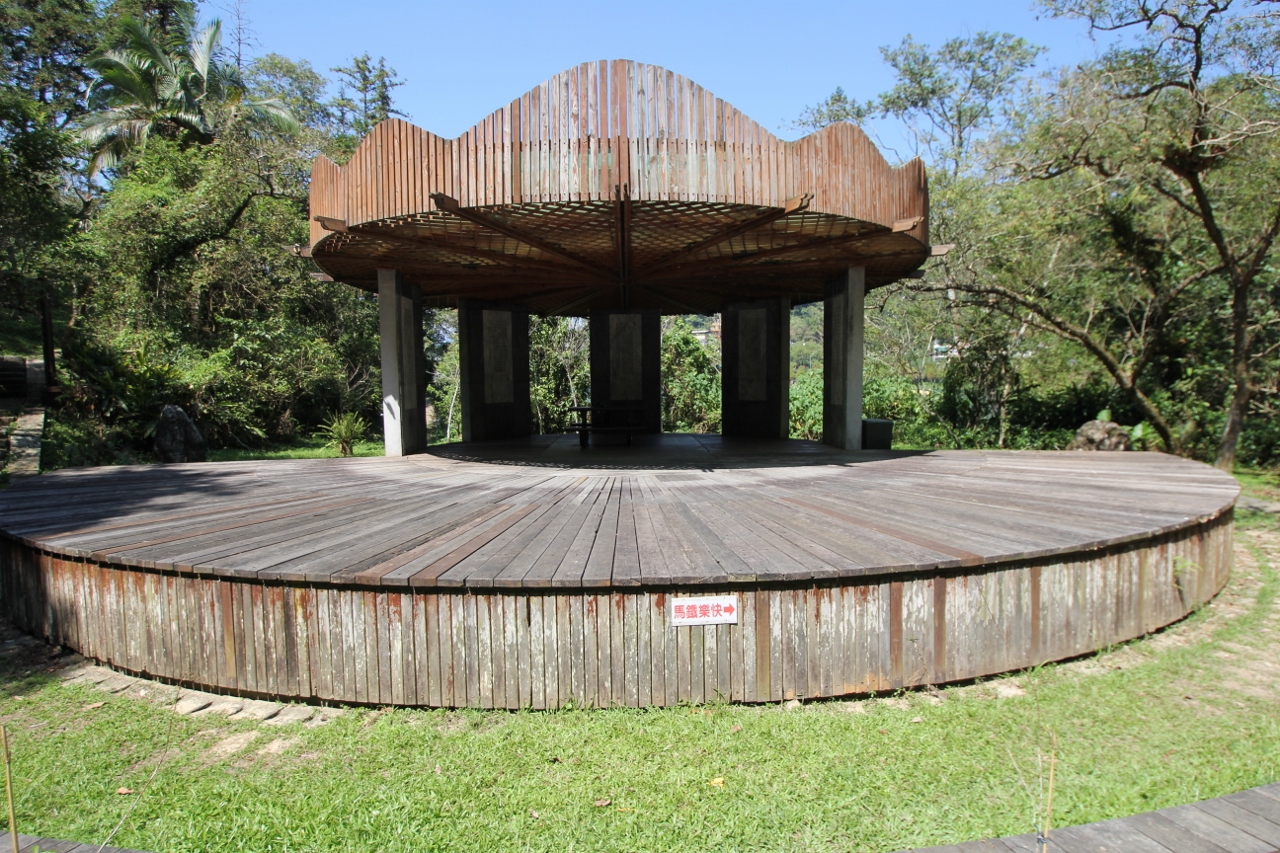 "The fragrance of the apricot platform"- an ancient story has it that the great teacher Confucius taught from an apricot platform, and "the apricot platform" has come to be a synonym for the academic world. The story further has it that apricot trees were planted wherever Confucius taught, and that the master played music while his students studied, so "apricot platform" came to be a term used for locations where lessons were given to students. At the time the Teachers Hostel was built, a brick platform was constructed, with apricot trees planted around it, for use as a teaching platform as well as a stage for music performances.
The track took a route passed some disused rafting platforms and a little inland through a small arch of bushes leading to a clearing where a structure much like a band rotunda with seating stretching up in a small amphitheater. Unlike the other pergolas we had seen that are brightly painted with Chinese carvings and motifs, this austere structure had grey stone pillars on a raised weather worn hardwood stage with an equally weather worn ceiling facade all opening to the seating spreading up the hill. It was very different, the signage called this the Apricot Platform. The apricot platform is a teaching venue much like a lecture theater.
Beyond the apricot platform was the new village, as we arrived we realized it wasn't a new village it was just the old one but a bit further round. We had walked out around a big peninsular and were now only about 500 meters from our hotel?
There area was full of Chinese tourists and their bicycles, we sat in a small pergola just over the lake and watched as the foot path tinkled, rattled and chortled to the sound of happy cyclists.
Although extremely hot it was still well before midday so we decided to press on around the lake, and the next thing that surprised us was a row of big concrete pipes. Big pipes I imagine the size that would be used on hydro schemes they were about two meters or more radius, and what was unusual about these pipes apart from their size , they had sliding glass doors and curtains one end and were blocked up the other. They were concrete pipe houses or huts.
Walking along the lake edge boardwalk a fisherman was hauling in his catch, well actually, his catch was not bigger than a lure, after proudly displaying it and posing for a photo with Al, he popped his booty in a bucket as we headed to the dam wall.
Teeming with people the dam wall was an unspectacular green verged road between the expanse of the Sun Moon Lake and a bush covered gully. Photographs were being taking in every conceivable pose as bicycles dinged and rattled in both directions.
Grey and low set a huge building appeared to span a bay lead to by a sweeping foot bridge that took us over a road. The information centre buzzed with life, with tour parties and groups small and large gathering to look over an infinity pool to the lake stretching in the distance. This huge complex had a restaurant, souvenir shop, art gallery and places to book and run weddings. Too big and busy for us we retraced our steps to a small park on the edge of the lake half a kilometer away. Here we had a table and we ate our lunch in relative solitude as another set of fisherman quietly hunted their pray.
On our long walk back to the hotel a little of the local wild life revealed itself with a pair of turtles sitting on a log just under a bridge. Definitely a photo opportunity, however just before we reached the dam wall a park ranger signaled to us to come closer and look. He was trying to guide a green snake away from the road and back into the safety of the bush. Walking through our village we came across a motor bike on a pole for absolutely no good reason and a man with a parrot on his shoulder.
A great walk and we could have gone further however hot and tired we opted to find our bar and have a slow drink and watch the Shueishe village metamorphose from day to night.