Right on the Beach for lunch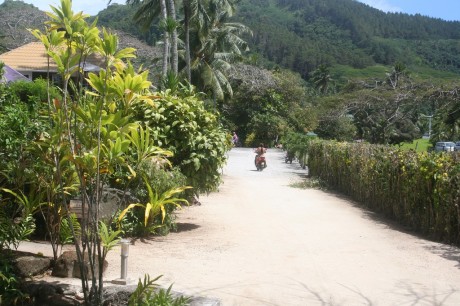 Today was definitely a low energy day, we went for a ride around the island so that my better half got a good run on her motor scooter before we handed it back, we combined this with a trip to the shops for a few bits and pieces, and included lunch at a small restaurant on the beach. This location was another special place, it was the Manuia Beach Boutique Hotel, the restaurant called "Right on the Beach" restaurant, situated about 15 minutes from town in an anticlockwise direction. The restaurant seating and tables are unique and actually in the sand, the floor area circular in shape with a roof above and sides halfway up.
The air was warm and we watched people snorkelling and sunbathing while we ate a simple lunch and had a drink. There were only two other couples in the restaurant, it seems such a shame to have these wonderful venues not doing good business.
Return to 2011 Rarotonga